creative soul - Fotolia
Government launches digital skills survey to find out more about UK's needs
The government has launched a survey to find out what advanced and specialist digital skills are needed in the UK
The government wants to better understand the UK's specialist digital skills needs, and has launched a survey to gather information.
The digital skills and inclusion team at the Department for Digital, Culture, Media and Sport (DCMS) has launched the study to find out more about the UK's digital workforce, and to determine what the characteristics of an advanced or specialist digital workforce are.
Technology roles such as cyber security specialists and data scientists are growing in demand, and organisations are on the lookout for people with the right skills to fill these positions. In some cases, firms are at risk because of a lack of workers with these skills.
Roles such as IT analyst, IT manager, programmer, systems architect and head of IT security are examples cited by DCMS of jobs calling for specialist or advanced digital skills.
Antony Walker, deputy CEO of industry body TechUK, said the next few years will see businesses using digital tech to boost productivity and "having a world-leading digital workforce will be critical for this".
"We are encouraged to see the DCMS undertaking this important research to develop the UK's advanced and specialist digital skills pipeline," he said. "This is key in meeting not only the tech industry's growing demand for skills, but also for sectors across the economy, which are increasingly digitising."
The DCMS online survey is aimed not only at the digital and tech sector, but also other industries that use digital technologies, such as financial services and retail. It hopes to collect data from employers about their skills needs.
Many believe the UK's skills gap will only get wider unless the government, education providers and the technology industry work together to develop the skills that industry needs to fill roles now and in the future.
Higher-level skills
The survey is aimed at any office that employs at least one person as a digital specialist, and asks questions about the higher-level skills involved in creating, operating and maintaining digital technology systems, as well as how to build, maintain and enhance such systems in the future.
Once the data has been collected, DCMS plans to use it to help develop policies to address the UK's digital skills gap and help to meet industry demand for particular skills.
Graduates are leaving university without the skills needed to fill empty tech roles, and many outside the tech industry lack the digital skills to perform necessary tasks. The skills gap is estimated to be costing the UK economy £63bn a year.
In 2014, the UK government introduced a computing curriculum for schools with the aim of fuelling the technology talent pipeline. But despite this, many children are still not choosing science, technology, engineering and maths (Stem) subjects.
Although many children believe the curriculum gives them the digital skills they need for a future career, some commentators argue that the jobs children currently in school will have in the future do not yet exist – making it essential to find out what skills will be needed in the future as well as those currently in demand.
Click here to complete the government survey on digital skills.
Content Continues Below

Download this free guide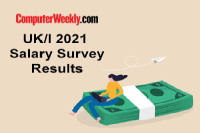 2021 UKI Salary Survey - Pandemic Infographic
We take a look at our 2021 Salary Survey results from over 300 respondents who work in the UKI IT sector. We will be breaking down which job functions get paid what, what areas of IT companies will be investing in in 2021, the current diversity landscape residing in the UK tech sector and how the pandemic has effected IT staff.