WavebreakMediaMicro - Fotolia
Synergy research emphasises gulf between higher and lower ends of cloud provider market
Research data for the second quarter highlights the significant and growing hold the big cloud firms have on the off-premise infrastructure services market
Amazon, Microsoft and Google are continuing to grow their share of the cloud market at the expense of the smaller players, according to Synergy Research Group's latest findings.

Download this free guide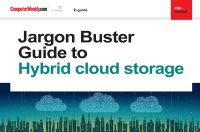 Jargon Buster: Hybrid Cloud
In this Jargon Buster guide we bring you definitions for the key concepts in hybrid cloud storage plus in-depth articles on hybrid cloud file and object storage, how to use the cloud as a storage tier and the key decision points when it comes to private cloud vs hybrid cloud.
The market watcher's second-quarter data shows that Amazon Web Services (AWS) is still the leader of the cloud infrastructure services market, with 34% share. Behind it are Microsoft with 11%, IBM with 8% and Google with 5%.
The data suggests Amazon has gained 1% share over the past four quarters, while Microsoft and Google have gained 3% and 1%, respectively.
The next 10 providers, which include the likes of Rackspace, Oracle and Salesforce, have a combined market share of about 19%.
Meanwhile, companies outside of the top 14 have lost 5% over the same time period, suggesting cloud providers at the bottom end are continuing to lose market share to their larger competitors.
AWS, Microsoft and Google are renowned for their infrastructure-as-a-service (IaaS) and platform-as-a-service (PaaS) offerings, while IBM leads in the private cloud. Interestingly, despite being in the "next 10" in the market, Alibaba is in the top four for IaaS.
The three big cloud providers have all recently released their financial results, which underline the findings in Synergy's research. AWS's revenue has increased year-on-year to $38bn, while Microsoft's Azure Intelligent Cloud revenue grew by 11% to $7.4bn in the same quarter. Google does not separate its cloud earnings, but its total revenue for the second quarter was $26bn. It noted a "substantial" growth in cloud revenue, which would have been a contributing factor to that figure.
Read more about the big four cloud providers
The Synergy research also found that cloud infrastructure services were almost at $11bn for revenue, and there continued to be an increase of 40% each year.
John Dinsdale, a chief analyst and research director at Synergy, said the figures highlighted the increasing dominance of the hyperscale players in the market.
"While Microsoft Azure and Google Cloud Platform are doubling in size, IBM continues to dominate in hosted private cloud and AWS is still over three times the size of its nearest competitor," he added.
"Some of the numbers are actually pretty spectacular. The year-on-year market growth rate is nudging down as we expected in such a large market, but it remains at comfortably over 40%, and AWS alone generated revenue growth of $1.2bn over the past four quarters."
Read more on Cloud computing software