Sergey Kravchenko - Fotolia
Salary survey shows IT managers command big bonuses
A Computer Weekly survey has shown the scale of remuneration package that IT managers can expect - with bonuses an increasingly important part
People in IT are aspirational, with 45% prepared to jump ship to another company for the right offer even if they are not actively looking for a new job.
The Computer Weekly/TechTarget 2016/2017 Salary Survey, which questioned 738 UK and Irish IT and business professionals, found that, as expected, senior IT managers command the highest salaries, with an average annual income of £112,200, 19% of which is bonus-related.
In comparison, the average salary for IT staff is £37,010, with a bonus of 8%.
Ben Booth, interim CIO and the UK representative of EuroCIO, said senior IT roles are seen as part of business leadership rather than technology leadership.
"Senior IT management may be board level or part of the core team that delivers the business mission," he said. As such, the role tends to come with a remuneration package as part of the senior business cohort, and "bonuses depend on business performance".
The survey found that people who progress into a management role tend to see the biggest rise in the bonus they receive. Almost a quarter of people earning between £35,000 and £49,000 said they had received a bonus of 20% or greater on top of their salary.
At the top end of the salary scale, 40% of those earning over £100,000 received a bonus of 20% or more (see graph below).
Almost two-thirds of those surveyed said their organisations offered both a career path and the ability to work in different geographical locations.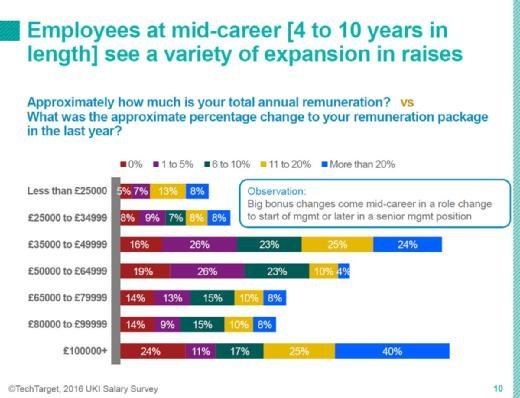 In Booth's experience, promotion for more junior people starts with being technology savvy, but shifts away from technology in more senior roles. "Exemplary technology skills will get you so far, but to reach senior positions junior people have to think of the business roles," he said.
That said, technology skills should not be forgotten. The survey reported that 84% of respondents agreed with the statement "Continuing education/training is important to helping me achieve my career goal".
Some 40% of those surveyed said their organisations would be hiring more developers, systems, network and security engineers, project managers and architects, suggesting that many businesses are actively building technology skills. This reflects the general consensus across industries globally to digitise business.
"Technology does not stand still," said Booth. "There is real danger for individuals if they don't embrace change. There will be questions on commitment and usefulness. People who can get excited about the next new thing are going to be more valued."
In Booth's experience, having worked for several major organisations across the private and public sector, the interface between business and technology is difficult to get right. "The tech is quite well understood and almost commoditised," he said.
The business side represents both a challenge and an opportunity for IT. The survey found that 46% of respondents plan to increase the size of their technology team. There could be any number of reasons to grow the internal IT team, but industry watchers believe the era of IT-enabled business has finally arrived.
The first Fortune 500 list was published in 1955. By 2015, just 12% of the companies originally listed remained. Today, CEOs are scrambling to work out what "digital" means in the context of their business. Some are prepared to invest heavily to boost their technology footprint, such as Walmart's $3bn acquisition of e-commerce company Jet.com, which was announced in August 2016.
As businesses become more digitised, the role of internal IT becomes customer facing.
At a recent gathering of European CIOs, Volvo Cars' director of business development and strategy, consumer IT, Jonas Rönnkvist, said: "IT has 1000+ applications and 50+ legacy applications. Now we build services for millions of customers instead of internal employees. We are like an IT operator with our core systems supporting them."