CIO interview: Sam Lowe, Matchesfashion.com
Sam Lowe, CIO of online fashion retailer Matchesfashion.com, explains how a retailer can go from being 100% bricks and mortar to 80% online in the space of five years
In the omni-channel world only retailers who are able to adapt to the customer's growing demand for convenience will be able to survive the shift away from bricks-and-mortar.

Download this free guide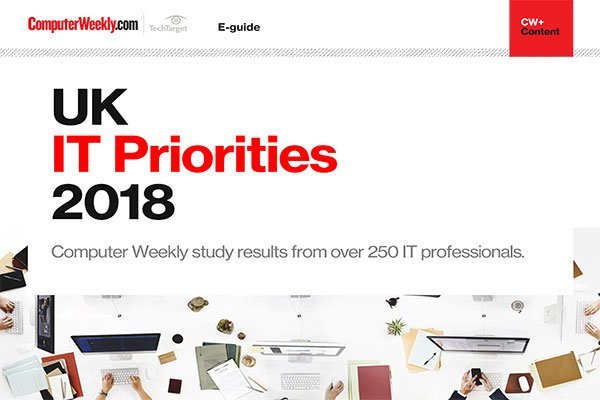 UK IT Priorities 2018 survey results
Download this e-guide to discover the results of our 2018 UK IT Priorities survey, where IT leaders shared with us what they are going to be investing in over the coming 12 months.
By submitting your personal information, you agree that TechTarget and its partners may contact you regarding relevant content, products and special offers.
You also agree that your personal information may be transferred and processed in the United States, and that you have read and agree to the Terms of Use and the Privacy Policy.
The changing retail landscape has seen John Lewis, for example, adapt to offer digital services such as click-and-collect and Marks and Spencer use technologies such as RFID tags to streamline stock orders and ensure customers can buy desired goods.
Luxury retailer Matchesfashion.com began as a traditional bricks-and-mortar store in Wimbledon village 27 years ago. Sam Lowe, the firm's CIO, explains that dealing in luxury led the business to undergo digital changes to cater to the demands of customers expecting outstanding service.
Moving into the omni-channel space
"In the past five or six years the digital side of the business has grown at a huge rate, driven by the product we offer and the adoption of digital devices and technologies by customers," says Lowe.
The retailer realised its customers expected the same services they could get from other retailers, such as click-and-collect, a website, a mobile offering and store assistants empowered by technology.
This led to a large-scale project inside the firm which saw the retailer implement a website, mobile applications and in-store technologies, building the firm from 100% bricks-and-mortar to 80% online.
"Technology is now good enough to do justice to the engaging luxury product experience and luxury user experience," says Lowe.
"Time is the biggest luxury of all when it comes to people, especially time spent doing things people love to do. Experiencing a product they love is something people are obviously happy to do if you make it the right experience."
Lowe has ensured customers gain a luxury experience both online and in store by not only developing a user-friendly website, but implementing in-store technologies to allow customers to gain more information about products and increase the ability of shop assistants to help.
"In the luxury market, great customer service given through staff who have a lot of knowledge on the product is worth a lot," says Lowe.
"We've put a lot of emphasis on giving people in the stores appropriate technology. We've long since moved away from the traditional till point experience."
Over the past year, Matchesfashion.com ensured its stores had hidden cash tills. It also implemented mobile payments systems in the form of iPad point of sale (POS) systems to allow shop assistants to answer customer queries about items and stock, as well as act as a checkout.
"Our store experience couldn't be less like the through-point oriented till-based experience, that's the opposite of what they are," says Lowe.
"In the old days of retail, it used to be that there was some kind of customer ordering system written on a computer in the back room that was separate from the till and from the website and never the twain shall meet. Now, however, all three are the same thing and they're all running on the same device."
Lowe uses the examples of a customer in London ordering same-day delivery of a product not available in the store and the convenience of click-and-collect to describe how retail channels are becoming less separate and more about customer satisfaction.
"It blurs the lines between what is an in-store experience and what is an online experience," says Lowe.
Crossing the channels
As retail channels begin to merge, the importance of tracking one customer's journey across multiple channels grows.
Lowe explains that when growing each of the channels for a retailer, it's important to ensure a single customer view and a single product view is available, instead of only considering single channels.
"That does require some significant re-platforming if you have an existing set of systems set up for a store channel," says Lowe.
"You do need to do things such as have your POS connected to what is effectively an e-commerce system to get the engaging product information and the data and imagery. You also need to have a single view of stock so you know where all the stock is so you can fulfil online orders from what's in the store."
Having a single view of stock has been very important to Matchesfashion.com. Lowe explains that fluidity of stock, especially in luxury retail, ensures customers have access to new products before the market moves to the next trend.
This extended to Matchesfashion.com's online remit. Lowe worked with developers to ensure website suggestions followed a customer's journey to choose items particular customers would like.
"Knowing the customer and knowing what they like is worth a lot in building up great customer relationships where they keep coming back to us," says Lowe.
"If you look on the web analytics for our website you can see there are a lot of people following those discovery links for recommendations of similar or complimentary products. That allows people to explore in an engaging way through the large amount of products we stock."
Changing the attitude to technology
Lowe explains that the IT function for Matchesfashion.com was originally only meant to support internal operations for the firm.
"IT has gone from being a supporting function – the traditional retail store view where a small IT department supports the operations of a store, a warehouse and a head office – to being effectively the engine of the growth of the business," says Lowe.
"So when I joined two-and-a-half years ago we renamed IT to technology to celebrate and emphasise the fact it is clearly the future of luxury commerce."
The technology team is responsible for supporting business operations and developing customer-facing digital products.
Lowe's team uses a "symmetrical approach" to developing the internal applications and customer-facing mobile operations and website.
"The same technologies we use to deliver products to our customers we also use to deliver services to people inside the business and to our partners," says Lowe.
This "outside-in approach" ensures the same developers working on customer-facing applications develop internal APIs [application programming interfaces] so the business's employees get the same experience as those they are serving, rather than attempting to adopt applications for "old clunky legacy systems".
Building the technology team
The technology team at Matchesfashion.com has grown from five people to 50 in the space of five years.
As user experience design (UX) was high priority for Matchesfashion.com when looking for designers, Lowe used the "build it and they will come" approach.
"It's not easy to build up a great team, but it helps to have a really great proposition people want to be part of, it helps if you're a fast-growing business that's doing very well and is creating something that's beautiful. It all attracts people," says Lowe.
Lowe hails London as a "hub" that attracts talented workers, with some of his employees having travelled to join the firm from other European cities for the chance to work in the capital.
"Hiring people to come and work in London who are currently in other European cities is another thing that we've had success with," says Lowe.
"London is a great technology hub in Europe, but it's not the only one. Places such as Berlin have some very interesting things going on as well, but London is one of the top technology hubs in the world so we get lots of people who have come to us from overseas."
The importance of stores
New York University professor of marketing Scott Galloway recently said that retailers can no longer be successful with a pure-play e-commerce approach – and he's not alone.
Lowe agrees and states that although having a larger online remit is helping to reach customers the business couldn't previously, the stores are needed to add an extra luxury experience that compliments the online offering.
The stores are still growing for Matchesfashion.com, but Lowe admits this is "nothing like at the same rate" as its online offering due to physical property restrains and the success of an omni-channel approach.
"The stores are very important to Matchesfashiion.com, they're one of the ways we can have high-quality touchpoints and people can look at and feel the product," says Lowe.
Read more about omni-channel retail
The head of online operations development at Sainsbury's says retail channels are growing so fast customers don't know what they want.
Research by Accenture finds customers think retailers could provide a more unified approach across all platforms.
Read more on IT for retail and logistics