Andy Dean - Fotolia
CIO interview: Farrer & Co IT director Neil Davison
The law firm that served Charles Dickens has a much more modern approach to its technology strategy
Not every business can boast a client list as strong as past and present members of the Royal Family and Charles Dickens, yet law firm Farrer & Co – which was founded in 1701 – boasts a long history of advising clients on legal matters.

Download this free guide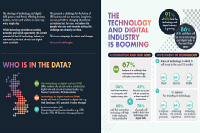 Infographic: How to future-proof UK technology
There is no doubt that the technology industry is booming right now, bringing with it exciting social and economic opportunities. However, there is a real fear that the UK industry may be stunted due to the lack of talent available. This e-guide helps to break down the future fears and expectations of dozens of business leaders and tech workers.
The firm's employees delved into the archives last year and read through some of Dickens' letters to the business. "He was very friendly with his lawyer," says Farrer & Co IT director Neil Davison, who is more than aware of the importance of the firm's interesting legacy.
"Let's just say that if you look into Dickens' past, you'll understand why he needed a lot of legal advice. We've got the letters on display now. There are references to his separation, his mistress, even the development of plots and characters, such as the demise of Nancy in Oliver Twist."
When it comes to technology, however, Davison is keen to eschew legacy and take a cutting-edge approach to IT-led transformation. Over coffee in the splendour of the firm's London office overlooking Lincoln's Inn Fields, he talks about achievements so far and long-term plans for change.
Understanding change in the legal sector
Davison, who has two decades of experience of technology in the legal sector, became IT director at Farrer & Co in 2008. "It's a great place to work," he says. "People who didn't work here would think it's a stuffy environment. But it's a very friendly firm, with a great work/life balance, which is unusual for the high-pressure world of the legal sector."
Turnover at the firm is low and Davison has spent longer at Farrer & Co than in any other position. He recognises that change in the industry has not been as rapid as in other sectors, such as media and marketing. Yet Davison also says key areas of technology transformation, including mobility and on-demand IT, have affected the business.
"There was a time not so long ago when no one in a legal firm used a BlackBerry," he says. "That's changed and there's also a growing recognition of the importance of the cloud. Legal IT directors, sadly, are still often risk-averse and like to follow the lead of other firms. But change is slowly coming and people are taking a different stance."
"Cutting IT costs produces big, visible wins for the CEO. That foundation work gave the business confidence that we could take on more interesting challenges"

Neil Davison, Farrer & Co
Davison's willingness to adopt the cloud at Farrer & Co means he does consider his role to be a kind of trailblazer for the sector. "We're pushing forward and doing things that other firms are only starting to consider – we're definitely leading the way," he says.
"I'm not a hands-on IT director. I focus on ideas and strategies, rather than implementing the systems. I rely on my team to manage operational concerns. I run project boards, speak to the business and partners to understand their key priorities, and think about how technology can be used to help meet those objectives."
It is an important conversation because, as is the case at most law firms, IT is not uppermost in minds of most employees. "They're lawyers – they don't want to be IT specialists," he says. "They do rely on you coming up with ideas and driving things forward. Since I've been here, we've changed pretty much everything."
Getting the building blocks right
Davison says technology transformation started with the foundations. Core IT systems, such as infrastructure, servers and networks, had to be replaced. The majority of that work took place behind the scenes but the rest of the firm started to see improvements in stability and performance.
The IT team also reviewed its service contracts. Davison says the firm was using about 80 suppliers when he joined, which was too many for a business of Farrer & Co's size. The firm today has a turnover of £54m and employs 400 people, 71 of whom are partners.
"Cutting IT costs produces big, visible wins for the CEO," says Davison. "That foundation work gave the business confidence that we could take on more interesting challenges." Those new tests relate to the IT transformation that Davison and his team have pushed during the past four years.
One key area of change has been around workflow. Farrer & Co used to be heavily reliant on paper. The induction of new clients could take as many as two days and involved the completion of multiple forms. The firm automated workflow using Intapp Flow business process management software and the induction process now takes three minutes.
Taking document management to the cloud
Workflow has also been improved through the implementation of electronic document management (EDM) technology. Davison has installed NetDocuments' cloud-based EDM system, along with Kodak i3000 Series scanners and Capture Pro software. The technology, implemented by managed service specialist ITEC, provides another boon in the firm's attempts to become paper-light.
"We knew this was going to be a key project," says Davison, who started the initiative in 2013. "Lots of firms change their document management system, but we wanted to do something different. We looked at how the business worked and decided to implement an electronic filing solution."
He says early buy-in from the business was crucial. "I put together a project board of 11 people, including partners, solicitors and secretaries, and we undertook a comprehensive review of document management. We realised it would be core in our attempts to introduce electronic filing," says Davison.
Read more about IT in law firms
The project board assessed seven systems and shortlisted three. After a request for proposals and in-house demonstrations, the technologies were scored against 17 different criteria. "It was really important that the project team chose the technology they thought was right for the firm," says Davison, whose IT team implemented the EDM system in 2014.
"We undertook a large amount of business analysis because we knew we were making significant changes to the way people worked with files. Our business analysts went out into the business and understood how people worked with paper files. Once we had that information, we could start to think about the look and feel of NetDocuments and how we could replicate a paper file on screen."
Reaping the business benefits of on-demand IT
The firm's fresh approach to electronic filing has produced big dividends. Scanning volumes are up 25% since the project started. Efficiency and flexibility, says Davison, are the other key benefits. "People can now get to their files from any location," he says. "Everyone can continue to work on documents, whether they're at work, at home or on the road."
A move to the cloud provides more than an improvement in terms of everyday working. The firm's offices are near Holborn in central London, where an electrical fault earlier this year led to a major underground fire that caused a mass power outage. While Davison and his team battled to restore systems at the main site, lawyers could continue to access files electronically through the cloud.
"That situation proved the cloud could actually help mitigate risk," he says. "There was a lot of work in the firm to prove that going on-demand was safe. Internal communication helped ensure people were comfortable. But we sold on-demand IT as a hosted solution – we didn't even use the term 'cloud'."
We've already seen the benefits of moving document management to the cloud. Keeping information on site doesn't really add any value to the business

Neil Davison, Farrer & Co
Davison says that, in reality, there is little difference between using the cloud and hosting data in a traditional, off-site datacentre. The firm did pay careful attention to regulations and contracts. Yet Davison says the external suppliers he uses, such as NetDocuments, are sophisticated data managers.
"These external firms are used to working with business information – they deal with major organisations all over the world," he says. "These providers are experts. They boast a level of security that we could never hope to match. Our documents are far more secure than they ever would be on site."
Embracing mobility and innovation
Davison is now allying the flexibility of the cloud to mobile technology. The firm deployed Apple iPhones to users earlier this year and is evaluating tablet devices. "We're adding more and more software to the cloud, which will mean our lawyers will be able to do pretty much everything, from anywhere, on a phone or a tablet," he says.
Lawyers already have access to email and calendar. Other key applications, such as Big Hand dictation software, time-recording applications and electronic filing, are also available through the cloud. Davison anticipates moving to Microsoft Office 365 next year to provide on-the-go access to enterprise productivity applications. He has bigger plans for key systems, too.
"In 24 months, I'd like to think we'll be moving our datacentre off site," he says. "We've already seen the benefits of moving document management to the cloud. Keeping information on site doesn't really add any value to the business. Having people in-house to tinker with boxes and servers offers nothing. It makes much more sense to deploy those talented IT workers on business-facing projects."
When it comes to his own role, Davison is keen to look into areas that might sometimes be seen as beyond the realm of a traditional legal firm. "This sector is fairly conservative and isn't particularly innovative," he says. "But we could do a lot more work in areas such as artificial intelligence (AI) to understand in detail the documents that we hold."
The potential use of AI remains at the concept stage, but Davison is keen to keep a watchful eye on developments. "We need to make sure we retain the right ethos – and that's all about client focus," he says. "We must continue to work closely with the business to ensure we deliver to their demands around efficiency, mobility and flexibility."
Read more on CW500 and IT leadership skills