popyconcept - Fotolia
NHS England in talks over government funding to deliver digital
Ahead of the spending review, the Department of Health (DoH) has asked the government for between £3bn and £5bn to support the deployment of technology in the NHS, reports suggest
NHS England is in talks with the government ahead of next month's spending review about the need to invest in the deployment of technology and the capabilities to do so in the NHS, according to its national director for patients and information, Tim Kelsey.

Download this free guide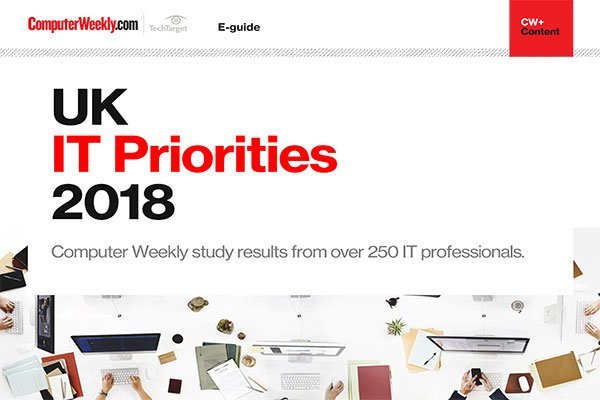 UK IT Priorities 2018 survey results
Download this e-guide to discover the results of our 2018 UK IT Priorities survey, where IT leaders shared with us what they are going to be investing in over the coming 12 months.
By submitting your personal information, you agree that TechTarget and its partners may contact you regarding relevant content, products and special offers.
You also agree that your personal information may be transferred and processed in the United States, and that you have read and agree to the Terms of Use and the Privacy Policy.
Speaking at EHI Live in Birmingham, he said there is a need to develop a "vigorous culture of entrepreneurial response to enable the technology", which he hopes the government will prioritise in the coming spending review.
"We are currently in a really important conversation with the government about the degree to which it now needs to commit in a way that has not been true before, recently at least, to a significant level of capital investment in the health service for the deployment of technology, particularly locally," said Kelsey.
He added that there is also a need for a "significant level of investment in developing the capability we need locally not only to ensure that the technology is successfully deployed but that value is obtained from it".
"I really hope the government will prioritise this in the spending review," said Kelsey.
Her Majesty's Treasury (HM Treasury) is being asked for up to £5.6bn to fund the deployment of technology and the capabilities to do so in the NHS, reported the Health Service Journal (HSJ).
A paper submitted to the National Information Board by Department of Health informatics delivery management director Tim Donohoe, seen by HSJ, which was published online and has subsequently been removed, said it had bid "for technology, data and digital with an estimated range of costs of £3.3bn to £5.6bn, and signalled to [HM Treasury] that more work was needed to refine the costs".
In November 2014, NHS England committed to making patient-facing digital services a requirement by 2020 in its Personalised Health and Care 2020 framework.
A large part of the programme, which aims to ensure the NHS is digital at the point of care, involves making sure information can easily be sent between care providers such as hospitals, GPs and mental health trusts, as well as social care providers.
To do so, IT systems must be interoperable, and in September 2014 NHS England put clinical commissioning groups (CCGs) in charge, asking them to create roadmaps on how to achieve a digital NHS across their local health economies.
This will include making sure all IT systems are interoperable and can transfer information across providers, and that interoperability and open application programming interfaces become priorities when procuring new software.
To assess providers on this, NHS England is creating a digital maturity index which will track the progress of individual trusts and share best practice across the NHS.
Kelsey said he did not want the NHS to be like the US, which has electronic patient records in individual hospitals that don't talk to each other.
"Interoperability is fundamental. What we must not do is what the Americans did and build fantastic electronic hospitals in the sky and not the ability for them to speak to each other," he said.
"This is why it's so important that the digital maturity index is all about how local health economy learns how they can use digital to speak to each other so that the ambulance, the GP practice and the hospital are all in perfect currency of the patient record.
"We know that will improve the quality of outcomes for the patient and in many cases transform the cost of the services delivered. Interoperability is core to the collaboration we are prioritising."
Eventually, the digital maturity index will also become part of the Care Quality Commission's inspection regime.
Health secretary Jeremy Hunt announced recently that US professor Robert Wachter will undertake a review of the the digital future of the NHS, which will focus on which lessons the health service needs to get right on the road to going digital.
Read more on Healthcare and NHS IT