adamparent - Fotolia
UK and US governments announce digital collaboration
The US and UK have announced plans to work together on digital government initiatives
The UK and US governments have announced plans to collaborate on the development of digital government services.
The tie-up will see the UK's Government Digital Service (GDS) working with the US Digital Service (USDS) and Washington's 18F agency to exchange knowledge and experience.
"By sharing knowledge and exchanging skillsets we build digital teams that are the best they can be. I'm incredibly proud of all GDS has achieved over the past few years," said Cabinet Office minister Matthew Hancock during a visit to the White House.
"I look forward to leading the next phase of GDS. Transatlantic co-operation will be important in helping the digital operations in both the UK and US governments scale up and succeed."
US chief technology officer Megan Smith added: "We have such a long history of close technical collaboration and friendship between the US and the UK. It's only fitting that we would continue this collaborative spirit for making parallel progress in digital government. We look forward to sharing best practice as we work to improve the lives of people in each of our countries."
It's not yet clear, however, what specific digital initiatives the two governments will work on.
The agreement follows the creation of the D5 group in 2014 consisting of the UK, South Korea, Estonia, New Zealand and Israel to work together on digital government and foster shared best practice.
Over the past couple of years, other governments around the world have also taken code created by GDS for the Gov.uk website, and released as open source, to develop their own web offerings.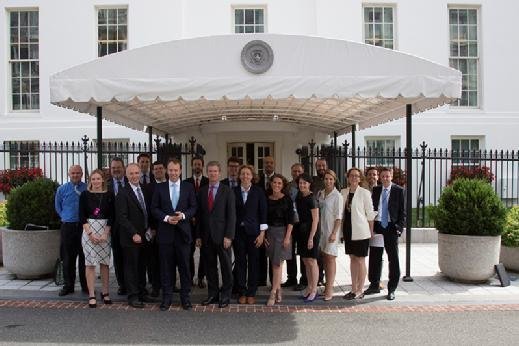 GDS members, including Matthew Hancock and Liam Maxwell, stand with members of USDS and 18F outside the White House during a recent visit to the US
UK government chief technology officer Liam Maxwell said: "I'm proud that the UK has been at the forefront of these digital reforms – with our open Gov.uk code now used by other governments around the world – but it's clear that we need to work together with our partners to keep ahead of the curve."
During the summer, staff from USDS and 18F visited GDS in London to discuss their approaches to digital transformation. GDS chief Mike Bracken said at the time that the organisations had a lot in common.
"The more governments can talk about the problems that they're facing and be open about them, and the more that we can help each other, then that's got to be the right thing," he said in a video posted on the GDS blog.
Haley Van Dyck, deputy administrator at USDS, added: "The environments we work in are so similar, and it's amazing to hear you talk about sharing things more. It's like, how different can these products actually end up being? Maybe they should be the same. Should we actually just start even sharing at that level? I think we're very excited to keep talking about that more."
Read more about GDS and international co-operation