Storage an investment magnet as 2014 funding soars to $1.79bn
Investors pile into storage, with all-flash, hybrid flash and hyper-converged server/storage hardware hitting funding jackpot in 2014
2014 was another strong year for venture capital investments in storage technology, with total disclosed funding hitting $1.796bn.
That's a big increase on the $1.2bn invested in 2013 and the $1bn in 2012 and 2011.
The total re-affirms the view that storage continues to be a healthy space for technology innovation and that investors view the market as ripe with opportunity. This is despite – or perhaps because of – the fact that many of the larger storage suppliers continue to struggle for growth due to changes taking place in the market.
It also reinforces the view that the startup ecosystem remains the engine of innovation in the storage space, even though the enterprise storage markete continues to be dominated by a small number of large providers.
Large sums were invested in a small number of companies. Five startups – Actifio, Box, Dropbox, Nutanix and Pure Storage – raised rounds of $100m or more and accounted for almost $1bn of funding between them – more than half the total investment in the storage category.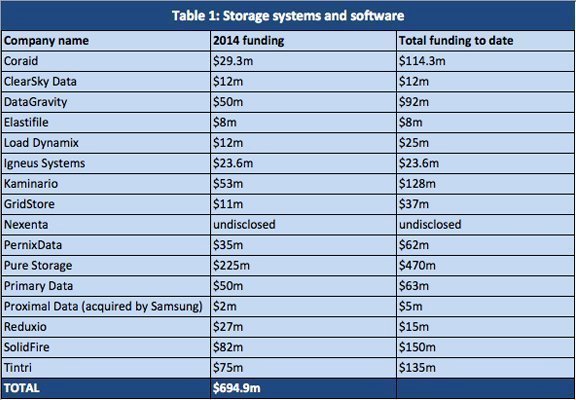 Table 1
Storage systems and software
The first category – storage systems and software (see Table 1) – is the largest in terms of total investment and number of players, and includes storage systems and system software startups that mostly target primary storage workloads.
This includes companies with caching technologies, along with a couple of stealthy startups that have yet to reveal their specific intent. Investments here were principally driven by two factors: leveraging the economics of flash for enterprise storage workloads; and the move to software-defined storage approaches.
All-flash arrays stand out
A year ago, 451 Research predicted that 2014 would be the year of the all-flash array – and so it has proved. The market really came to life last year as customer adoption began to ramp up for the first time and as the major suppliers came to market, most notably EMC.
All this clearly helped convince investors that the all-flash array market remains a substantial opportunity for innovative companies. There were significant investments in the leading flash startups, most notably $225m for Pure Storage, but also $82m for SolidFire and $50m for Kaminario.
There will be rationalisation in this market – Astute Networks was one all-flash array startup that failed in 2014, and more may follow – but it's clear that the all-flash array is going to play an increasingly prominent role in the datacentre.
But investors also recognise that, for the foreseeable future, there will continue to be a major market for hybrid flash storage systems that blend disk and flash. It follows that there will continue to be opportunities for innovative startups in this field.
There have already been successful initial public offerings (IPOs) for the likes of Nimble Storage, while companies including Tintri and GridStore secured funding in 2014 to continue to develop their hybrid approaches.
Meanwhile, there was new money for pure software startups, most of whom are, unsurprisingly, positioning themselves as software-defined storage providers. Here, there was money for caching software specialist PernixData, a small round for Proximal Data (before it was acquired by Samsung) and an undisclosed round for Nexenta.
Another warning about the tough nature of this market was the apparent failure of Coraid, which attracted fresh funding as recently as last year.
More on the storage market
Out on a data storage market limb: Six predictions for 2015
Hybrid flash hot, all-flash not, in 2014 storage M&As
Finally, we have also seen the emergence of another new generation of storage system startups, all of which believe they have taken a fundamentally different approach to tackling age-old storage problems.
Data Gravity – founded by the team that built, floated and sold iSCSI pioneer EqualLogic – emerged from stealth in 2014. Primary Data – formed by the team that created PCIe flash pioneer Fusion-io – was another player to emerge.
Other storage system players to come on the scene in 2014 included Formation Data Systems and Reduxio. With additional stealthy startups planning to reveal themselves in 2015, it's safe to say there's no shortage of innovation in the primary storage space.
Hyper-converged systems trending
If 2014 was the year of the all-flash array, then 2015 may be the year when hyper-convergence (see Table 2) really begins to ramp up. This approach – which loads clusters of commodity servers with software that turns them into full-functioning converged systems with SAN-like shared storage – exploded onto the scene in 2014.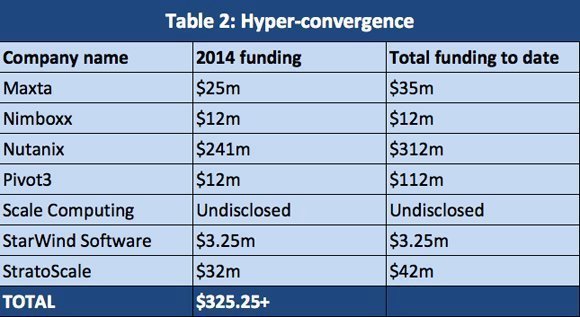 Table 2
This was largely thanks to VMware's hyper-converged salvo, courtesy of VSAN and the EVO:Rail programme, but was aided by multiple new startups emerging onto the scene in 2014.
Nutanix has become the poster child startup of the scene, a status undoubtedly helped by the fact it raised a whopping $241m funding round in 2014 and looks set for an IPO in the not-too-distant future.
Nutanix's rapid growth has emboldened investors to put money into others with similar approaches. Hence money was invested in Maxta, Scale Computing, Pivot3 and Starwind in 2014. Another early pioneer is SimpliVity, though it didn't raise new capital in 2014.
Additionally, new hyper-converged players burst onto the scene last year, with Nimboxx and Stratoscale joining the fray. More startups can be expected to emerge here in 2015, while almost all the major server and storage suppliers are exploring the opportunity.
All of this sets up hyper-convergence as one of the most fascinating spaces to watch in 2015, not just in storage, but in the IT infrastructure space overall. The success of Nutanix and others to date hints that the opportunity is real, but the extent of the potential – and how quickly it can grow – remains unclear.

Table 3
Object-based storage: Is the time right?
If flash-based approaches are in the ascendancy in the primary storage space, then object storage approaches (see Table 3) are increasingly relevant at the other end of the spectrum, owing to their promise to cost-effectively store the masses of data that almost every organisation generates in increasing quantities.
It remains true that object-based storage has not yet captured the imagination of the industry to anywhere near the same extent as flash, but it remains an area of innovation for suppliers large and small as they look to take object storage into the mainstream. It's only a matter of time before this happens – the only question is, how much time?
In 2014, there was continued investment in object-based storage specialists, including Amplidata, Cloudian and SwiftStack, and additional startups with object-based approaches are expected to announce fresh funding in 2015. The fact that large storage suppliers have begun to show more interest in object-based storage approaches – the latest being NetApp – should continue to raise the profile of this space, and more large players are likely to enter the market with what could be disruptive approaches in 2015.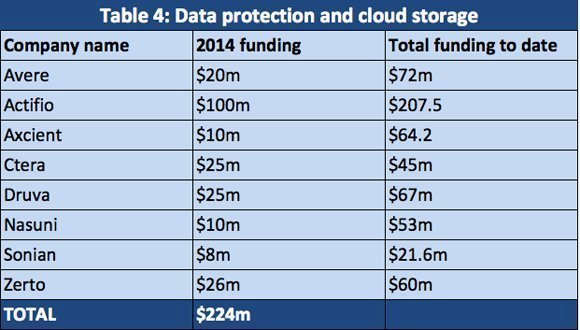 Table 4
Data protection meets the cloud
The data protection market is going through some fairly substantial changes as organisations look to reduce complexity and leverage cloud economics where it makes sense, and our fourth category blends data protection and cloud-based models around enterprise storage (see Table 4).
Actifio continues to make a name for itself with its self-styled "copy data management" – a tagline that others also embrace – and a further $100m in funding underscores the belief investors have in its approach.
Meanwhile, there was new money for cloud-based backup provider Axcient, virtual machine-centric disaster recovery provider Zerto, endpoint backup specialist Druva, cloud-based archiving player Sonian and three players that offer variants of cloud and object-based storage integration: Avere, Ctera and Nasuni.
The number and variety of players in this category nods to the fragmented nature of this market. However, parts of this market are consolidating – two cloud gateway providers were acquired in 2014 (TwinStrata by EMC, and Riverbed's Whitewater product by NetApp) – while some hybrid cloud-based protection players have begun to gain momentum. All of which points to this remaining an active segment of the market in 2015.
Enterprise file share and sync
Closely related to the above sector is the market for enterprise file share and sync capabilities (see Table 5).

Table 5
In 2014, more big money was invested in the two largest standalone specialists in this space – a huge $250m for pioneer Dropbox, as well as another $150m for Box, which also postponed IPO plans last year.
That postponement perhaps speaks to the hugely fragmented – and extremely price aggressive – nature of this market, and it's probably quicker to list the IT and cloud suppliers that don't have a file share and sync capability than those that do.
Accordingly, only one more file share and sync specialist raised money in 2014: OwnCloud. Amazon was the most notable entrant last year, with its Zocalo service.
While the file share and sync space remains a strong growth market, its evolution into a feature of a broader platform, rather than a standalone product, suggests a difficult time ahead for smaller specialists, though ongoing consolidation is expected, providing specialists with a potential exit.

Table 6
Post-flash alternatives
Last, but certainly not least, were fairly large investments in two relatively low-profile companies that are at the forefront of innovation in the next wave of solid-state media (see Table 6).
Flash has a finite lifespan, and at some point over the coming decade will be replaced by an alternative technology. Exactly which technology will succeed flash remains very much up in the air, but Spin Transfer and Crossbar will be hoping to have some bearing on this. Stay tuned for further analysis and insight on this market throughout 2015.
---
Simon Robinson is vice-president, storage, at 451 Research.
Next Steps
Nimboxx broadens Automic Unit platform for better support