Cyber security among six UK industries competing for skills, says IET
Cyber security is among six fast-growth industries that could boost the UK economy significantly if they are not hampered by a lack of skills
Cyber security is among six fast-growth industries that could boost the UK economy significantly if they are not hampered by a lack of skills, warns a report.
Action is needed now to ensure skills shortages and lack of investment do not hamper their potential, according to the Ones to Watch report from the Institution of Engineering and Technology (IET).
Cyber security is among the most promising UK industries which all face five key challenges, said the authors.
These challenges are: competition for skills; the ability to transform and acquire new skills; investment to make them fit for the future; the ability of companies to embed technology innovation in their business; and the ability to tap into a diverse talent pool.
For the next generation of engineers, the growth of networked devices means cyber security will become a critical element of their skills mix, the report said.
Tim Watson, director of the Cyber Security Centre at the University of Warwick, said security is no longer simply about the internet.
READ MORE ABOUT CYBER SECURITY SKILLS
Modern network security architectures face skills shortfall
Cyber security extends to physical world
As network-controlled devices become integral to manufacturing processes and the function of devices which help manage day-to-day life, the focus of cyber security has widened to maintaining the integrity of the physical systems that interface with digital networks.
The two main areas are cyber-physical systems and the internet of thing (IoT), said Chris Hankin, director of the Institute for Security Science and Technology at Imperial College, London.
The term cyber-physical systems refers to the integration of computing with physical processes and, as the concept of cyber security widens out to embrace these physical systems, Watson believes that will be reflected in a growing demand for engineering skills.
"We will need engineers, including people with expertise in areas such as materials science and electromagnetism," he said.
Watson said the supply of skilled people is linked to demand, and that in turn is closely tied to industry, government and public awareness of the key threats and necessary counter-measures.
"There is some way to go here and we can't get too far ahead of the demand curve," he said.
Growing demand for security skills
According to the report, devices that communicate with each other will dominate the internet of things (IoT), which involves convergence between internet and wireless technologies and micro-electronic mechanical systems. The report said this will be fundamental to the design and roll-out of everything, from smart grids to smart medical devices which will automate and improve aspects of healthcare.
Cyber security has a critical role to play here too, and the design, management and roll-out of networked devices has profound implications for future demand for cyber security expertise, the report said.
While the demand for cyber skills is set to grow 13% a year between 2013 and 2017, the report notes that, according to a 2013 study for the Department for Business, Innovation and Skills (BIS), there is already a shortage of people with the knowledge and expertise required by the industry and the public sector.
According to the National Audit Office (NAO), this gap could take 20 years to fill, and this affects not only IT specialists and computer engineers, but also the broader engineering community, because it means they cannot rely on these skills being available, the report said.
As laid out in its 2014 Cyber Security Skills report on cyber security, engineers will need to develop and demonstrate their own expertise and knowledge.
"With so much at stake, cyber security is the focus of policy and substantial investment, which is creating a raft of new opportunities to develop these skills," the report said.
Opportunity in the balance
The report concluded that new jobs will emerge, using new combinations of engineering skills in the deployment of technology – but the UK will miss this "golden opportunity" if it fails to address the availability and diversity of the engineering skills base.
According to the Department for Business, Innovation and Skills, the government estimates the cyber security sector will be worth £3.4bn in 2017, up from £2.8bn in 2013.
There are 600 UK headquartered cyber security companies, with the leading cluster is based in Malvern, Worcestershire.
Content Continues Below

Download this free guide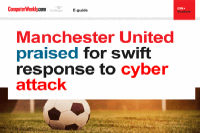 Manchester United praised for swift response to cyber attack
The Theatre of Dreams briefly turned into The Theatre of Nightmares as Manchester United Football Club suffered a cyber-attack on their systems on Friday 20th November. This e-Guide dives into more depth about how the attack happened and what Manchester United's cyber security team did, in order to prevent a loss of data and keep a clean sheet.