Network Rail extends fibre network to rural broadband providers
Network Rail Infrastructure asks Ofcom for more powers to build out its fibre network for the benefit of broadband and mobile suppliers
Network Rail Infrastructure has asked Ofcom to grant it code powers to extend and improve its existing national fibre optic network for the benefit of other broadband and mobile network providers.
Holders of code powers, as set out in section 107(4) of the Communications Act 2003, have permission to construct and maintain network infrastructure on public streets without obtaining a street works licence; benefit from certain immunities from the Town and Country Planning legislation; and can apply to the courts to obtain the right to execute work on private land if they cannot reach agreement with the landowner.
The regulator considers applications for code powers from providers of electronic communications networks and providers of conduit systems.
Currently a number of telecoms and broadband providers – including BT, TalkTalk and Virgin Media – have been granted such powers, but they have also been extended to a number of utility companies, mainly water suppliers.
Through its wholly owned telecoms arm, Network Rail Telecom, Network Rail Infrastructure maintains and operates an 18,500km dark fibre network, known as FTNx, which runs alongside railway lines up and down the country.
It delivers a number of services to Network Rail, including voice, data, video and broadband services, enabling mobile working by maintenance teams and communication between trains.
Benefits to commuters and residents
More recently, Network Rail Infrastructure teamed up with Cisco to deploy internet of things (IoT) sensor networks. The IoT networks will allow train operators to use in-cab signalling to run more services physically closer together, and maintain the rail infrastructure more efficiently and safely.
However, Network Rail Infrastructure now wants to expand this network and has asked to be able to install infrastructure to locations outside its land.
In its application the company said this expansion would let it "deliver and operate a high-speed, high-capacity national electronic fibre optical network infrastructure to transmit a variety of network and IP services to new geographic areas outside of its existing network footprint".
Ofcom said Network Rail had confirmed it intends its electronic communications network and system of conduits to be used to improve mobile connectivity along the rail corridor and will offer wholesale services to other telecom operators.
Read more about rural broadband and mobile
"It has explained that its planned network expansion would enable it to deliver and operate a high speed, high capacity national electronic fibre optical network infrastructure to transmit a variety of network and IP services to new geographic areas outside of its existing network footprint," said Ofcom.
"Due to the coverage of the applicant's network, it has explained that this will benefit the public as a whole, as it is likely to increase competition in the provision of various broadband and telecom services in the future."
A Network Rail spokesperson said: "Network Rail is engaged in a programme to understand how best its assets can be used to provide benefit and value to users of the railway and the UK as whole. Our strategy is not finalised and remains subject to both DfT and ORR approval."
"Network Rail Infrastructure operates, maintains and plans to continue to invest in, manage and expand the existing overground and subterranean electronic G652 dark fibre optical communications network, known as FTNx.
"Our application for code powers (initiated in March 2014) reflects a recognition that under a number of potential scenarios, Code Powers could facilitate the delivery of potential services and therefore bring benefit faster to the railway and the public."
Computer Weekly contacted the Department of Media, Culture and Sport (DCMS), the government body ultimately responsible for BDUK, but at the time of writing had not received any comment on the proposals.
Ofcom has proposed Network Rail Infrastructure should be given these powers, and will now run a public consultation until 22 December 2014, to seek the views of the general public and other stakeholders.
Content Continues Below

Download this free guide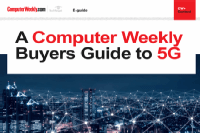 A Computer Weekly Buyers Guide to 5G
Despite the fears of many that rollouts of the next generation infrastructure would be delayed or just not be possible due mainly to the adverse economic conditions caused by Covid-19, the prospects are actually quite bright for the 5G industry in 2021. Download this EGuide to find out what enterprises need to know about 5G.
Read more on Telecoms networks and broadband communications