Annual global cost of identity theft as high as £3bn
The annual worldwide impact of phishing and various forms of identity theft could be as high as $3bn a survey has revealed
The annual worldwide impact of phishing and various forms of identity theft could be as high as $3bn, a survey of 10,500 consumers in 20 countries has revealed.
The cost of repairing damage to peoples' online reputation is nearly £3.6bn, or an estimated average of £384 per loss, according to the latest Microsoft Computing Safety Index.
In the UK, 5% of respondents said they had been victims of online phishing scams, losing an average of £100 per incident.
A further 3% said they had been victims of identity theft and 2% said that their "professional reputation had been compromised", again costing £100 on average to resolve the problem.
However, only 34% said they limit what strangers see on social networks and the amount of personal information online; only 30% adjust their social network privacy settings and just 33% use a PIN or password to lock their mobile device.
"Sometimes, the very experiences that we love about the Internet put us at risk," said Jacqueline Beauchere, chief online safety officer at Microsoft.
"But there are many things you can do to stay safer online. If we all do just one thing, imagine how much safer we all will be, together," she said.
Beauchere said. "Go to our website to share your one thing. Tell the world that you're committed to helping keep the internet safer and more secure. And once you do, you'll be part of that positive change."
Microsoft has published guidelines to help internet users make more informed decisions and better protect their online activities.
These include using a PIN for mobile devices, using strong passwords for online accounts, and not sharing personal account information over public Wi-Fi connections.
Microsoft also suggests that internet users review periodically what information about them is available on the internet and delete any unnecessary or inaccurate content.
They should also use privacy settings to manage the information they share and with whom they share it, and be elective about what they post and who they accept as online contacts.
Content Continues Below

Download this free guide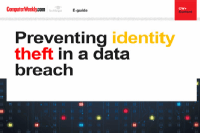 Preventing identity theft in a data breach
In this e-guide, we will explore the links between ransomware attacks, data breaches and identity theft. First, Nicholas Fearn investigates the phenomenon of the double extortion attack, and shares some insider advice on how to stop them, while we'll explore the top five ways data backups can protect against ransomware in the first place.