IT mobility trend continues in 2014
More than half of enterprises plan to issue employees with mobile devices in 2014, a Computer Weekly survey has found
More than half of enterprises plan to issue employees with mobile devices in 2014, a survey has found.
Bring your own device (BYOD) schemes have been growing over the past year, and with 44% of UK firms claiming to be recovering from the recession, 2014 is the year IT spending will come into its own.
The 2014 annual TechTarget/Computer Weekly IT priorities survey of IT managers showed that 37% of IT leaders plan to implement a mobility strategy for their business this year.
The survey also found that 67% of enterprises plan to issue employees with mobile computing devices such as laptops, tablets and smartphones in 2014 (see Chart 1).
Quocirca analyst Rob Bamforth said the environment is changing rapidly, with many firms considering not only BYOD plans, but also corporate-owned personally-enabled (COPE) plans, depending on the needs of the business.
Of those respondents not giving employees mobile devices this year, 40% said it was because this was already implemented in their company – evidence that BYOD is already embedded in working life.
More on BYOD
Some 40% of those surveyed said smartphones were one of the highest profile projects for their business in the year ahead (see Chart 2). A number of enterprises now allow employees to choose the smartphone they want to use for work, with 39% implementing a mixture of corporate spend and individual phone choice.
A further 17% claimed that they would allow employees to use their personal devices for business functions too, enabling access to email and the ability to perform simple work tasks on their mobile device.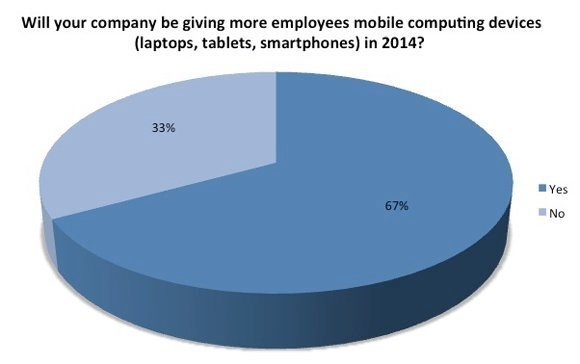 Bamforth said a combined strategy is sensible for most enterprises, as different people will be performing different roles: "There's a matter of having the right strategy for the right employee, or the right group of employees."
Last year, 55% of IT managers said they were introducing tablets to the workplace. In 2014, only 43% plan on implementing a project to provide employees with tablets, which may be an indicator that more enterprises are embracing employees bringing their own devices from home.
Of the 43% wanting to hand out tablets, 46% are doing this because they are responding to employee demand rather than realising this is what their business needs in the ever-changing work environment.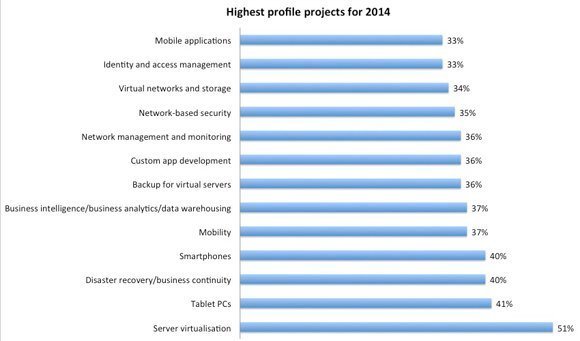 Bamforth said implementing a strategy for mobile workers is the right direction to take if that is what the organisation needs.
"The clear thing is that an organisation can't say 'we're going to do X' across the board because they've got different types of employees," he said.
Only 30% of those surveyed claimed to be working on a mobile device management (MDM) project in 2014, something that should go hand-in-hand with allowing mobile devices into a firm.
"It's more about managing what people do with [devices], so it's about securing apps and data. That's probably where MDM as a whole is moving, and if you look at a lot of the vendors that are out there, most of them have, as part of their portfolio, something that handles the applications and data, and that's an important part of enterprise mobile management. IT has moved on from the devices and moved into apps and content," said Bamforth.