UK blazes trail for cloud use in Europe
Survey suggests UK companies are more comfortable with the cloud than their Continental counterparts
UK businesses are far more comfortable about using external cloud services than those elsewhere in Europe, a new survey from TechTarget suggests. Compared to the continent as a whole, UK firms are less wary about investing in third-party cloud services and more likely to explore a range of cloud services and business models.
The 2014 Priorities Europe survey found 45% of UK companies plan to increase their cloud budget this year, compared with just 31% of European respondents overall.
While the proportion of firms planning to implement private clouds in the UK is consistent with the European average of 25%, UK businesses seem far more confident when it comes to using external providers.
Almost a third of UK companies surveyed (32%) said they plan to use third-party cloud providers this year, compared with just 19% in France, 20% in Germany and 22% across Europe as a whole.
Overall, the proportion of European businesses planning to use external cloud providers has dipped from 25% a year ago to 22% now, whereas among UK businesses it has risen from 27% to 32%. This widening gap could be a reaction to last year's revelations about covert government surveillance of cloud-based systems, which caused more controversy in mainland Europe than in the UK.
The disparity is most visible in firms' willingness to use software as a service (SaaS) companies and managed service providers (MSPs). Of those companies in Europe planning to work with cloud service providers, 44% and 35% said they would consider using SaaS providers and MSPs respectively, against 57% and 49% of UK respondents.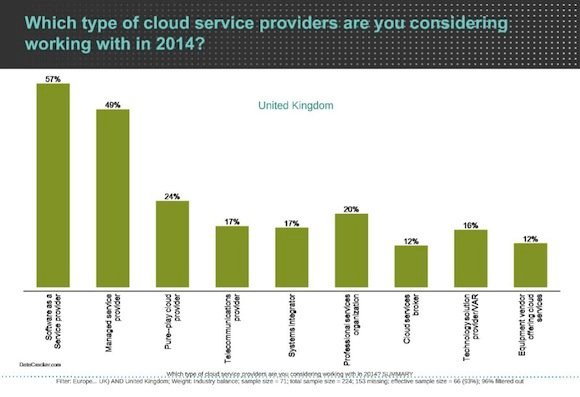 In addition, 39% of UK business cloud users said they plan to work on hybrid cloud integration this year, whereas for Europe as a whole the average is 33%. This need for integration seems to suggest UK companies are already further down the road when it comes to mixing and matching a variety of cloud business models.
However, William Fellows, founder and principal analyst at 451 Research, said the survey results were not in line with what he's been seeing, which is growing investment in external clouds across the whole of Europe. "It's only increasing," he said.
Fellows also doubts the surveillance scandal has affected customer confidence. "For those focused on cost only, it's irrelevant," he said. He added that the effect of the relvelations has, if anything, been positive for the cloud industry.
"Orange Business Services, for example, estimates that some 15% of its customer engagements now include a requirement for security, data sovereignty, datacentre location and other implications to be addressed," he said. The survey polled IT decision-makers in more than 750 European organisations across all sectors.