Eight new finalists in Cyber Security Challenge UK
Eight Cyber Security Challenge UK finalists announced at the UK's first civilian cyber security training camps

The UK's first civilian cyber security training camps have ended with the announcement of eight new finalists for this year's Cyber Security Challenge UK.

Download this free guide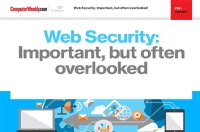 3 key web security guidelines from FS-ISAC
We address the ongoing issues regarding web security for businesses relying on an online presence. Download this e-guide and discover how to identify and address overlooked web security vulnerabilities as well as why you should look at the full security development lifecycle to reduce web threats.
Held across England and Scotland, the camps provided talented amateurs the opportunity to learn about cyber defence from seasoned professionals and develop their skills for a career in the industry.
The events culminated in a camp-versus-camp online game of attack and defence through the SANS Netwars platform, used to train cyber security professionals in government departments and major corporations around the world.
After four days of competitions, talks and assessments, the finalists were announced as Adam Tonks, Robert Laverick, Matt Watkins, Stephen Martin, Darren Brooke, Brendan Saunders, Adele Rattenbury and Andrew Gill.
The Cyber Security Challenge UK began in 2010 as three competitions run by a small group of supporters from industry, government and academia to address the growing skills gap in the UK cyber security profession.
Now in its fourth year, the challenge has grown its range of competitions to better represent the variety of skills currently demanded within the profession and is backed by over 75 sponsors from across government, industry and academia.
Cyber security talent development
The cyber camps are one of the most recent additions to the challenge competition programme, sitting alongside a variety of virtual competitions and providing a first opportunity for candidates to test their skills.
The cyber camps follow a pilot run last year at Lancaster University and offer a chance to qualify for the grand final of the challenge's core programme of competitions in which the UK's next Cyber Security Champion will be crowned.
Sponsors of the camps said they were attracted by the opportunity to share their industry knowledge and experience with candidates rather than just testing their existing abilities.
Stephanie Daman, CEO of the Cyber Security Challenge, said the quality of candidates across the two camps was encouraging.
"The whole weekend has demonstrated how people with talent, but little idea how to apply it in a professional sense, can very quickly begin to transform themselves into very good candidates for jobs, simply from spending some time with those already in the industry," she said.
The camps particularly gave candidates the opportunity to display their soft skills in being able to present to company boards alongside their purely technical skills, said Benjamin Emslie, cyber security strategy lead in PwC's government and public sector cyber security practice.
Apart from supporting the challenge's aims of developing talent in cyber security and sharing PwC's knowledge with candidates, PwC views the competitions as an opportunity to identify potential recruits and see new and emerging ideas in cyber security they might not otherwise come across.
"The competitions help identify the candidates with the best mix of technical, soft and business skills, because we need people who can manage risk and understand the strategic business goals of our customers to ensure that what they are doing fits those requirements," Emslie told Computer Weekly.
In February 2014, PwC is to co-host a similar challenge competition with Symantec that will be designed to take the focus on soft skills and the strategic element to technical skills even further, he said.
The camps were hosted by the Defence Academy, Shrivenham and the Glasgow Caledonian University.
Apart from PwC, the camps were supported by cyber experts from Serco, BlackBerry, RBS, Micro Systemation, the Information Security Forum, GCHQ, Ultra AEP, C3IA, SANS Institute, Scottish Police, Encription, Datasat, Esoteric, IRM, Sec-1, Tier 3, Cranfield University, QinetiQ, The National Crime Agency and the MoD's Land Information Assurance Group.
Read more on Hackers and cybercrime prevention