Cisco predicts machine-to-machine traffic will increase 22-fold
Internet traffic generated by machine-to-machine (M2M) communications is set to increase 22-fold between 2011 and 2016
Internet traffic generated by machine-to-machine (M2M) communications is set to increase 22-fold between 2011 and 2016 according to research from Cisco.
Mobile communication between objects, machines or sensors has led to the growth of M2M connections. Such connections include smart metering, business and consumer surveillance, inventory management, fleet management and healthcare modules.
Cisco said real-time information monitoring is helping companies deploy video-based security systems. Hospitals and healthcare professionals can remotely monitor the progress of their patients. As the number of applications grows, bandwidth-intensive M2M connections become more prevalent.
Traditional appliances and devices, such as home appliances, vehicles, energy meters and vending machines are now joining networks.
Among the application areas for M2M highlighted in Cisco's study are business and consumer security and surveillance, remote healthcare, inventory and fleet management and telematics.
Cisco noted that video streams could be used in commercial security cameras, accessed through mobile-enabled residential or commercial gateways.
Cisco said trip assistance, navigation and vehicle management were gaining greater consumer adoption. Broadband-to-the-car technologies use a mobile connection to the vehicle and then distribute the connection to notebook PCs and other devices within the vehicle through Wi-Fi.
Machine-to-machine traffic growth
The Cisco mobile VNI study predicts that while smartphones, laptops and other portable devices will drive about 90% of global mobile data traffic by 2016, M2M traffic will represent 5% of 2016 global mobile data traffic.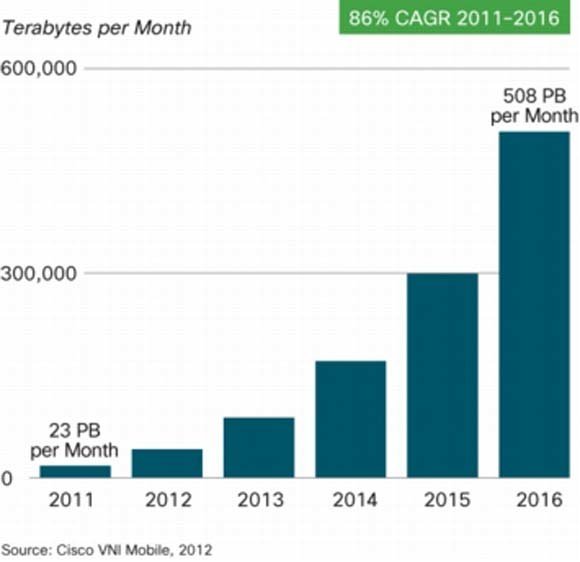 Globally, M2M traffic will grow 22-fold from 2011 to 2016, a compound annual growth rate of 86%, with M2M traffic reaching 508,022 terabytes per month in 2016.