Information commissioner calls for end to councils' sale of electoral register
Councils should be banned from selling copies of the electoral register to marketing companies, the UK's information watchdog has said. Information...
Councils should be banned from selling copies of the electoral register to marketing companies, the UK's information watchdog has said.
Information commissioner Richard Thomas said in the Data Sharing Review, published today, that selling the register is an "unsatisfactory" way for local authorities to treat personal information.

Download this free guide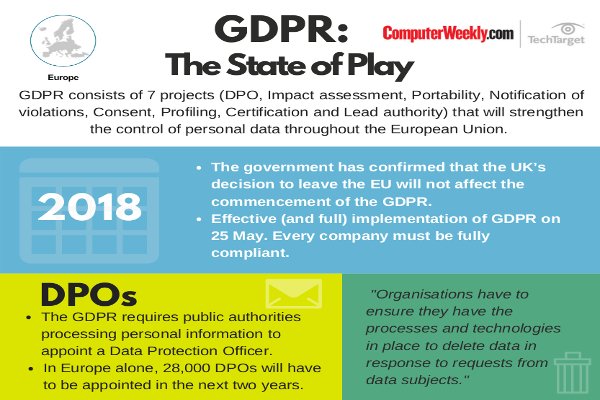 Infographic: GDPR - The State of Play
Get the latest information on how GDPR is going to affect your business and how to avoid any unwanted fines with this simple infographic.
By submitting your personal information, you agree that TechTarget and its partners may contact you regarding relevant content, products and special offers.
You also agree that your personal information may be transferred and processed in the United States, and that you have read and agree to the Terms of Use and the Privacy Policy.
Councils can sell the edited version of the electoral register, which holds details on 60% of the electorate, to anyone. It is most commonly sold to marketing companies for use in cold calling and direct mailing campaigns.
"It sends a particularly poor message to the public that personal information collected for something as vital as participation in the democratic process can be sold to 'anyone for any purpose'," the report says.
People can opt out of having their details included on the edited register but the report said the forms for doing this are confusing. Many people don't realise the edited version is available for sale, it said. Others are put off registering to vote at all because they fear their details might be sold.
Under the recommendations, the full version will still be available to political parties for electoral purposes, and to credit rating agencies.
The Data Sharing Review was commissioned by Prime Minister Gordon Brown to look at the way private and public sector organisations collect and store data. Its publication follows a raft of high-profile data losses and breaches, but it was commissioned shortly before officials
lost two CDS containing the entire child benefit database in November 2007.
Its authors, Richard Thomas and Mark Walport of the Wellcome Trust, called for a shake up in the way data is handled in the UK.
Their recommendations aim to address the public's concerns about data privacy, which include a lack of trust and a fear of "function creep" - the "ever-greater use of personal information by an increasingly overbearing state".
The proposals will tackle culture in organisations, increase transparency, and improve staff training in data handling. The report also called for stronger powers for the Information Commissioner and more control for individuals.
The report stressed that IT should not be the driving factor in information management. It said, "It is important that people do not find themselves led simply by what technology can achieve - they need to understand first of all what they want to achieve."
Read more on IT legislation and regulation