UK banks cut IT spending because of credit crisis
The uncertainty surrounding the UK economy is driving banks to rein back IT spending.
The uncertainty surrounding the UK economy is driving banks to rein back IT spending.
Analyst Pierre Audoin Consultants has revised its forecast, expecting software and IT services expenditure to fall 4.6% in 2008, compared to 8.4% growth in 2007.

Download this free guide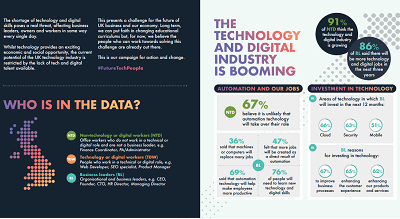 Infographic: How to future-proof UK technology
There is no doubt that the technology industry is booming right now, bringing with it exciting social and economic opportunities. However, there is a real fear that the UK industry may be stunted due to the lack of talent available. This e-guide helps to break down the future fears and expectations of dozens of business leaders and tech workers.
"Banks are in a position of not knowing how long or how bad the credit crunch is going to be," said Rajeena Brar, consultant with Pierre Audoin Consultants (PAC). "At this point banks are very reluctant to take on short-term projects which last two months to two years."
Because of this, IT consulting services, systems integration and spending on IT contract staff and IT training are likely to see cuts in spending during 2008.
However, Brar said outsourcing and offshoring are expected to rise as banks seek to do more with reduced budgets, with banks closing parts of their UK operations and shifting these to locations such as India.
HSBC recently announced it will be shutting its Scottish payments processing centre and credit card firm Capital One is axing 750 jobs at its operations in Nottingham and shifting most of the roles, such as account servicing, to offshore locations.
US offshore supplier Cognizant has opened an IT development facility in Canary Wharf this year in expectation of increased business.
Read more on IT efficiency and sustainability