Transport committee raps 'daft' bus smartcard policy
A parliamentary report on transport has criticised the 'daft' government policy on smartcarts.
A parliamentary report on transport has criticised the 'daft' government policy on smartcarts.
The English national concessionary travel scheme launched on 1 April, promised free national bus travel to older and disabled people in England. The scheme was hailed as a major opportunity for the government and transport operators to integrate ticketing, with the introduction of smartcard concessionary travel passes throughout England.

Download this free guide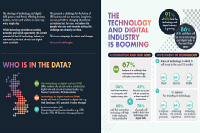 Infographic: How to future-proof UK technology
There is no doubt that the technology industry is booming right now, bringing with it exciting social and economic opportunities. However, there is a real fear that the UK industry may be stunted due to the lack of talent available. This e-guide helps to break down the future fears and expectations of dozens of business leaders and tech workers.
However, the fifth report by the Parliamentary Select Committee on Transport has produced a damning verdict on the delivery of the technology.
"Ten years after it expressed its commitment to promoting integrated bus ticketing, the government has achieved too little of practical value," the report says. "It is a nonsense that the everyday act of changing buses is still made unnecessarily inconvenient and expensive by poor ticketing arrangements. The government needs to pay more attention to resolving these basic problems which penalise passengers and deter others from using buses at all."
The select committee recommends that the traffic commissioners be given powers to arbitrate when bus companies and local transport authorities can't agree terms for multi-operator tickets.
The most damning verdict on the government's performance was on the deployment of smartcard technologies.
"The current situation whereby 11 million concessionary travel smartcards have been issued but most buses are not equipped to read them is daft. The government needs to agree a programme with bus operators for installation of ITSO smartcard equipment on buses."
In conclusion, the report calls on the Department for Transport to commission an evaluation of the benefits of the national scheme for free local bus travel.
Read more on IT project management