Wave of criticism hits government ID card relaunch
Businesses reacted with scepticism to the relaunch of its national identity scheme.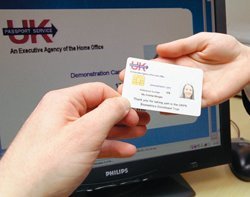 Businesses reacted with scepticism to the relaunch of its national identity scheme.
Home Secretary Jacqui Smith said that government polls showed that 60% of those asked still supported ID cards, despite the losses of hundreds of laptops and the personal details of millions of families.

Download this free guide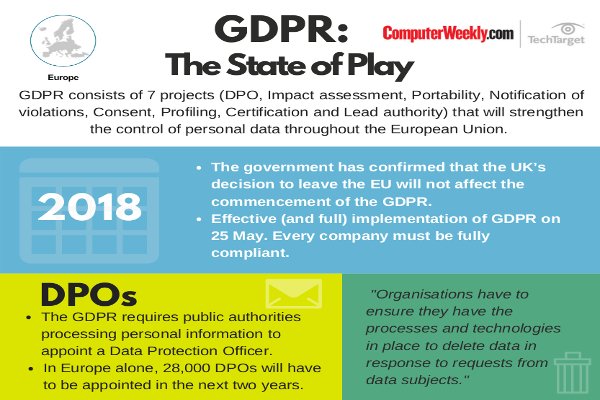 Infographic: GDPR - The State of Play
Get the latest information on how GDPR is going to affect your business and how to avoid any unwanted fines with this simple infographic.
By submitting your personal information, you agree that TechTarget and its partners may contact you regarding relevant content, products and special offers.
You also agree that your personal information may be transferred and processed in the United States, and that you have read and agree to the Terms of Use and the Privacy Policy.
But industry observers have reacted with caution.
Roger Wiltshire, secretary-general of the British Air Transport Association, whose members will be among the first UK citizens compelled to use an ID card, described the relaunch as a "half-baked and extremely dubious PR initiative".
The Confederation of British Industry said, "One sticking point is the requirement on the private sector to provide information that can be used to verify data held on the national registry, without making clear who will be liable for the accuracy of the information and how it will be used. The government must address this as a matter of urgency if it wants to build confidence in the scheme. There is also widespread unease about the government's ability to handle the vast quantities of sensitive data on the registry."
The British Bankers' Association said that while banks would probably accept a government identity card as one of the proofs of identity, it would not be the only acceptable proof. "As far as I know, we haven't even been asked about installing biometric readers at tills," said a spokeswomen.
The National Union of Students said, "They say that the card will be 'voluntary', but those students who decide not to have an ID card may encounter difficulties when applying for student loans and bank accounts. Student loans are an essential service, so we have to question just how voluntary this system will be in practice. We would also be concerned for the safety of students' personal information if they were coerced into entering the ID card system in this way."
But the most devastating critique of the government's plans is implicit in the independent review the government commissioned and then delayed publishing for almost a year.
James Crosby, who wrote the review, told Computer Weekly what weighed most in his mind was achieving fast, widespread take-up of the scheme. Based on successful examples of "universal" identity schemes elsewhere, he set out 10 principles that he said government should follow.
If Smith's speech and the delivery plan published yesterday are any guide, the government looks set to ignore Sir James' principles.
ID cards will be targeted first at non-EU nationals who wish to live and work in the UK.
The Home Office said, "After a pilot project in the spring, 10% of foreign nationals will be issued with identity cards by 2009/10 50% will receive identity cards by 2011/12, with 90% coverage by 2014/15."
Next in line are young people, especially students, and those the government can compel to have the card, such as airside airport workers, and people who work with children. Its self-imposed deadline for total enrolment is 2017.
But James said no scheme driven by national security interests and cost savings would enjoy rapid take-up and pointed out that compulsion would not necessarily translate into use. He backed a consumer-oriented scheme, where people could assert their identity quickly and confidently, to give the government what it wanted anyway, and without compulsion.
Smith said the new delivery plan "allows for the pace of introduction to be set by consumer demand, minimising the cost to the taxpayer".
A Home Office spokesperson said it had incorporated lessons from the Crosby report into the delivery plan. "We welcome Sir James Crosby's report," he said. "The Home Office was closely involved in the considerations of the public private forum on identity. The Home Secretary met with Sir James during the course of the forum's progress to talk further about their considerations and likely recommendations. We will carefully consider the impact each of the recommendations would have for the scheme. Already the work of the forum has influenced government thinking on the scheme as it was partly as a result of the forum's work that we have now moved towards a more consumer-led approach to command public trust in a national identity scheme."

The Crosby Principles
1. The purpose of any national ID card scheme should be restricted to enabling citizens to assert their identity with ease and confidence.
2. The scheme's governance should be designed to inspire the highest level of trust among citizens.
3. The amount of data stored should be minimised.
4. Citizens should "own" their entry on any register.
5. Enrolment processes should vary between individuals and change over time.
6. The scheme should be capable of being rolled out at speed.
7. The scheme's systems should be closely aligned to those of the banks.
8. Citizens should be able to rely on their cards being replaced and their identity being repaired quickly and efficiently.
9. Enrolment and any tokens should be provided free of charge.
10. The market should provide a key role in delivering a universal ID assurance scheme.
Read more on IT legislation and regulation