The role of 'emotional intelligence' in business
To reach the top in the vast majority of organisations, you need powerful people skills, whether you work in technology, finance or sales. People in IT often concentrate instead on getting technical or industry-specific qualifications, and are then thrust into managerial and leadership roles without the right skills.
To reach the top in the vast majority of organisations, you need powerful people skills, whether you work in technology, finance or sales. People in IT often concentrate instead on getting technical or industry-specific qualifications, and are then thrust into managerial and leadership roles without the right skills.

Download this free guide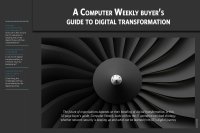 Computer Weekly's buyer's guide to digital transformation
Download this 14 page buyer's guide to discover how the IT operation can lead strategy, whether network security is keeping up and what can be learned from GE's digital journey.
It is time for all IT directors and aspirants to seize the leadership crown, as many of their IT colleagues have successfully done.
"Success" is the key word - defined simply as "achieving that which is important to you." In measuring and developing the success of leading people in highly stressful work environments, one invaluable tool we have found helpful for IT directors is emotional intelligence.
Its measurement tool is the emotional intelligence quotient. In answering the key question "what makes a leader?" we have found using emotional intelligence coaching highly successful. The health warning is that low emotional intelligence is the leading cause of leadership derailment.
So why are some people better able to achieve success in life? Why do some people who are blessed with superior intellectual abilities seem to fail in life, while others with more modest gifts succeed?
The world's most effective leaders are alike in one crucial way: they all have a high degree of what has come to be known as emotional intelligence quotient, or "EQ" for short.
What a high EQ leader looks like
Psychologist David Mclelland did some thorough leadership research that found that executives with higher EQ outperformed their annual revenue targets by 15-20%, and that 87% of the executives rated highly on EQ came in the top 33% of performance-related bonuses.
It is not that IQ and technical skills are irrelevant, but research clearly shows that a person can have the best training in the world, a sharp, analytical mind and an endless supply of smart ideas, but they still will not make a great leader without a high EQ.
Research by Daniel Goleman, a psychologist and author of the book Emotional Intelligence, shows that EQ levels determine up to 85% of leadership success.
Some characteristics of high EQ leaders are:
● They cope successfully and proactively with life's demands and pressures.
● They build and leverage rewarding relationships with others.
● They are able to set and achieve personal and professional goals in a manner that is compatible with what is truly best for them and others.
● They seek first to understand, then to be understood.
● They act with great authority and are not afraid to make tough decisions.
● They lead by example.
● They are able to get the most out of others.
Coach your EQ
So why use emotional intelligence coaching for IT directors? First, leadership is a huge responsibility it entails the potential to create a lot of good, or equally to cause a lot of collateral damage.
Second, in a "from-good-to-great" environment, small improvements in leadership skills can have a huge impact on return on investment.
Third, 80% of problems in organisations have nothing to do with strategic planning or accounting, but rather with faulty communications people's inability to understand how they and others function failure to see matters from someone else's perspective and failure to grasp the impact of one's actions on others.
Last, successful leaders shine in EQ: good relationships and coping strategies are the key to our success in every area of human activity, especially for a leader to bring out the best in their teams.
Emotional intelligence coaching is coaching designed for successful IT executives. Indeed, most leaders we work with are very successful by any standard.
As such, they know from past experience that they can change their behaviour. Upon closer scrutiny, we observe that they are successful because of a lot of reasons, and yet in spite of others. Coaching will often focus on improving an item on the "in spite of list" in order to release their full leadership potential.
A focus on measurable results
Good news: like your IQ, your EQ can be measured, and unlike your IQ, your EQ can be improved.
Based on 20 years of research by psychologist Reuven Bar-On and tested on more than 450,000 individuals worldwide (and rising rapidly), the Bar-On EQ-i is the most validated measure of emotional intelligence in the world.
Emotional intelligence is not only about being able to understand your own feelings, but it is also about being able to tune into how others are feeling around you, and act on that positively.
Fear not, the idea is not to get IT directors to hug trees. Instead, emotional intelligence-based leadership coaching is focused on success and enhanced performance.
Many leaders feel they have to work longer and longer hours today. They grind themselves into the ground, get stressed, ill and cause collateral damage to those around them at work and home. This is not sustainable. The successful ones benefit from leadership coaching that gets them to be more focused and try less.
Indeed, the best IT leaders are what we term "leaders who grow leaders". They spend a significant amount of their time developing and empowering the generation Y recruits to lead.
This generation works across the lower, and now mid-level, of our companies they like multi-tasking with multiple media channels and want to know "what is in it for me" and "how will you develop me so I am more employable, not just employed?".
A particularly effective leadership style for these IT leaders is using the "coach approach to leadership", and so giving themselves and their leadership teams vital skills. The output is to bring out the best in others, focus on results, have courageous conversations on high-friction performance issues and give inspirational feedback.
You can use emotional intelligence to measure and develop leadership success when it is supported by leadership coaching.
Most important is to get the work/life balance right, and model good leadership by example by being a leader who grows other leaders through using a coach approach to leadership.
Read more on Managing IT and business issues