Banks told to raise spend on innovation
UK retail banks need to embrace IT-driven change to keep pace with convergence and consolidation among banks globally.
UK retail banks need to embrace IT-driven change to keep pace with convergence and consolidation among banks globally.
In particular, the development of the Single Euro Payments Area (Sepa) will create new cross-border opportunities, making pan-European acquisitions involving UK banks, such as Banco Santander's buy-out of Abbey, all the more common.

Download this free guide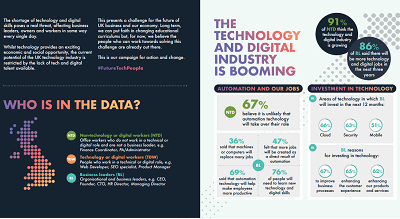 Infographic: How to future-proof UK technology
There is no doubt that the technology industry is booming right now, bringing with it exciting social and economic opportunities. However, there is a real fear that the UK industry may be stunted due to the lack of talent available. This e-guide helps to break down the future fears and expectations of dozens of business leaders and tech workers.
The warning was issued by analyst group Gartner at a recent financial services IT conference in London.
Sue Landry, Gartner's managing vice-president for the banking sector, said that only a small minority of banks were sufficiently prepared to drive the necessary change.
"There is evidence that only a very few banks understand the scale of the challenge," she said.
"These are the change agents, but the other 95% are still too absorbed in milking the current cash cow and meeting short-term obligations to shareholders or private owners."
Landry said there was more commitment to making necessary infrastructure change than previously, but that too few banks were investing in innovation.
"In the UK and internationally there is too much optimism in the market," she added.
According to a Gartner survey, 46% of bank CIOs globally believed that their companies were pursuing a "breakaway" strategy, aiming to invest more than rivals in systems that supported business effectiveness.
"There is just not enough market opportunity for 46% of banks to be successful in a 'breakaway' strategy," said Landry. "In saturated markets, market share gain enjoyed by one bank is a loss for others. And this does not include any of the threats from non-traditional competitors."
The survey found that bank CIOs did expect to focus more on global competition in the next three years. However, Gartner said European banks should be ready for opportunities as far afield as Asia-Pacific.
"In Asia-Pacific, IT teams need scalable architectures and the ability to roll out new banking services at short notice as their management aims for global expansion," it said.
Read more on IT legislation and regulation