HP water-cooled rack system aims to boost efficiency of blade farms
Hewlett-Packard has launched a water cooling system that could address the problem of overheating blade servers and cut datacentre running costs.
Hewlett-Packard has launched a water cooling system that could address the problem of overheating blade servers and cut datacentre running costs.

Download this free guide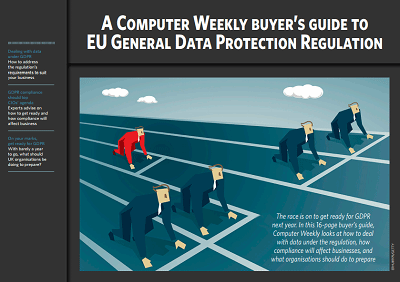 Computer Weekly's Buyer's Guide to GDPR
The race is on to get ready for GDPR next year. Computer Weekly looks at how to deal with data under the regulation, how compliance will affect businesses, and what organisations should do to prepare.
By submitting your personal information, you agree that TechTarget and its partners may contact you regarding relevant content, products and special offers.
You also agree that your personal information may be transferred and processed in the United States, and that you have read and agree to the Terms of Use and the Privacy Policy.
The Modular Cooling System is designed to increase system efficiency and reliability, and allow companies to consolidate their servers, said the company.
The technology uses chilled water to cool the air around servers, and as a result will allow a single server rack to consume three times more power - up to 30 kilowatts - than would otherwise be possible, according to HP.
The Modular Cooling System attaches to the side of HP's 10000 G2 Series rack, and provides a sealed chamber of cooled air, which is kept separate from the rest of the datacentre for safety. The system also needs to be connected to an external chilled water system to cool its water.
The recently released 10000 G2 Series rack, designed to be used with all HP server and storage platforms, standardises seven previously incompatible racks.
HP has also launched power management software - the Power Distribution Unit Management Module - to monitor the datacentre environment and manage the amount of power supplied.
Colin Williams, presales practice leader at consultancy Morse, welcomed the innovation. "HP is looking at local cooling in a self-contained environment. If you can cool the locale, you need less cooling in the datacentre in general," he said.
But Julian King, commercial director at datacentre provider Global Switch, said that because HP's rack can support up to 30 kilowatts of power, users would need to scale up their power and cooling accordingly.
"This is the critical issue for older datacentres. You have to put in new power systems and chillers. This rack is not a solution for all users," he said.
King also questioned the desirability of introducing water into the server environment.
"You are piping water into the technical areas themselves. If you sprung a leak in the rack, it could be disastrous," he said.
What causes blades to overheat?
Blade server heating problems are caused by several factors, the main one being that the servers are packed together closely, making it difficult to provide adequate cooling and circulation of air. In addition, older server racks draw cold air in from the bottom and blow hot air out from the top, but blade racks draw air in from the front and blow it out of the back. This can cause heating and power problems.
Read more on Server hardware