Dual-core processors and better batteries in new laptop generation
Several notebook technology innovations were unveiled at the US Consumer Electronics Show 2006 in Las Vegas earlier this month.
Several notebook technology innovations were unveiled at the US Consumer Electronics Show 2006 in Las Vegas earlier this month.
The main developments centred on giving laptop users better portability, wireless computing and power consumption. Dell, Lenovo, Hewlett-Packard and Toshiba were among suppliers demonstrating dual-core processors, new screens and more efficient battery technology.

Download this free guide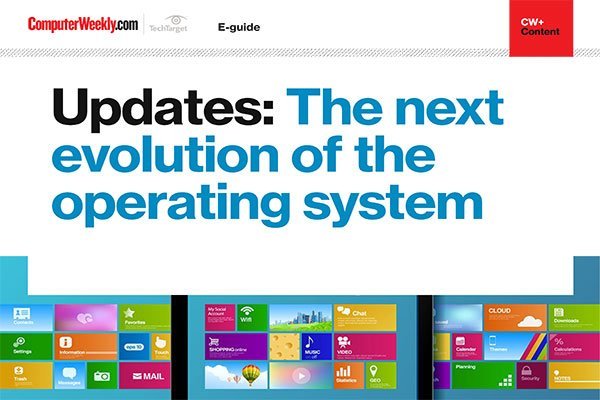 Software Updates: Our latest e-guide is available for your device. Download now?
See how operating systems are evolving with the help of continuous updates and learn about how the Spectre and Meltdown microprocessor flaws have led to improved, more secure processors being released and how Microsoft is evolving its Windows desktop operating system.
By submitting your personal information, you agree that TechTarget and its partners may contact you regarding relevant content, products and special offers.
You also agree that your personal information may be transferred and processed in the United States, and that you have read and agree to the Terms of Use and the Privacy Policy.
Notebook makers including HP, Dell, Lenovo and Acer used the show to promote dual-core Intel processor-based notebooks. With twin computing units (cores) to enable data to be processed faster, these are built around Intel's Centrino Duo mobile technology platform.
The dual core chipset supports more wireless standards than previous Intel chips, through Intel's wireless 802.11 a/b/g technology. They also support more efficient battery usage, faster processor memory and a 2Mbyte cache. Another bonus is the ability to shut down one of the processor cores if the application workload is light, which saves notebook battery life.
Toshiba demonstrated its Centrino Duo-based Qosmio notebook, which also features a High Definition-DVD drive, which is capable of storing between two and four times as much data as a standard DVD.
The notebook also supports screen resolutions up to the industry-leading high-definition 1080p format, which is suited to users who work with video and images.
In addition, Toshiba demonstrated flatbed three-dimensional displays and Direct Methanol Fuel Cells (DMFC). The display technology creates 3D images on flatbed displays with no need for the user to wear special glasses.
Toshiba said this would benefit e-learning and simulations of buildings and landscapes. It could also be used in games and for 3D menus in restaurants, for example. Toshiba has developed 24-inch, 15.4-inch and 7.2-inch 3D displays.
The DMFC notebook battery technology uses fuel cells that run on a methanol-oxygen fuel mix to generate and supply power directly to the PC.
DMFC has an energy density several times that of a typical lithium-ion battery, and can provide longer notebook usage. Because of this, analysts believe the next generation of notebooks will run on fuel-cell batteries.