Surround sounds good for testing
Seapine Software has launched version 3.0 of its Surround SCM software change management solution.
Seapine Software has launched version 3.0 of its Surround SCM software change management solution.
The company, a leading provider of software development lifecycle management solutions, said that the system contains a number of new features including changelists and atomic transactions, support for Lightweight Directory Access Protocol (LDAP) and Active Directory, and integration with Metrowerk's CodeWarrior, to give professionals even more control over their change management processes.

Download this free guide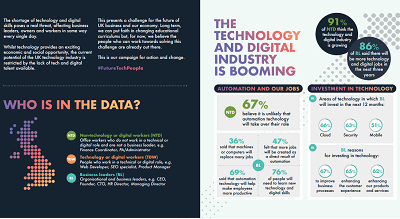 Infographic: How to future-proof UK technology
There is no doubt that the technology industry is booming right now, bringing with it exciting social and economic opportunities. However, there is a real fear that the UK industry may be stunted due to the lack of talent available. This e-guide helps to break down the future fears and expectations of dozens of business leaders and tech workers.
"The release of Surround SCM 3.0 is exciting because it addresses the needs of both our enterprise change management and software development lifecycle customers," claimed Richard Riccetti, president of Seapine Software.
"Surround SCM 3.0 and the upcoming TestTrack Pro 7.0 release are lowering the hard and soft costs of change management by combining rich feature sets with easier deployment and application management."
Headlining the new release are the changelists and atomic transactions. Changelists allow users to group changes to multiple files for later operations and historical reporting purposes. Atomic transactions preserve source repository integrity by ensuring actions performed on changelists either succeed or fail as a group.
Surround SCM 3.0 also includes LDAP support, which simplifies user account management. Administrators can now validate user logins and retrieve user information from LDAP servers, including Active Directory. LDAP support also reduces user account maintenance by synchronising directly with Seapine's licence server.
Metrowerk's CodeWarrior integration is another new version 3.0 feature. CodeWarrior users can now perform Surround SCM commands from within this popular Integrated Development Environment (IDE). Other new Surround SCM 3.0 features include Surround SCM integration with CruiseControl to automate the software build process, the ability to change usernames in the licence server, improved file transfer speed for remote users, and much more.
Surround SCM 3.0 is available immediately and pricing begins at $595 (£332) for a named licence; floating licence pricing is also available. For additional information go to: www.seapine.com/surroundscm.html.