Open source developers threaten standards body boycott
Leading open source developers are calling for a boycott of open standards organisation Oasis, after it changed its rules to...
Leading open source developers are calling for a boycott of open standards organisation Oasis, after it changed its rules to allow developers to charge royalties for some contributed code.

Download this free guide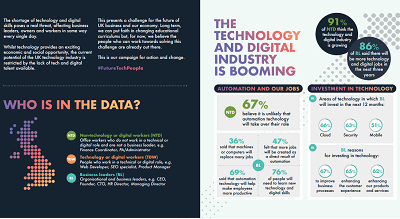 Infographic: How to future-proof UK technology
There is no doubt that the technology industry is booming right now, bringing with it exciting social and economic opportunities. However, there is a real fear that the UK industry may be stunted due to the lack of talent available. This e-guide helps to break down the future fears and expectations of dozens of business leaders and tech workers.
An e-mail protest is being circulated among the open source development community calling for Oasis to drop its plans and for a boycott of its development groups if it doesn't.
The work of Oasis is central to a number of new development areas, including the introduction of open source web services standards.
The boycott was called after Oasis revised its intellectual property rights policy to "take into account significant changes in the way that intellectual property laws and practices affect e-business standards".
Rather than mandate a single set of terms for all work, Oasis allows members of each of its 60+ committees to choose for themselves the intellectual property rights models best suited to their specific effort.
Oasis committees can elect to work under reasonable and non-discriminatory (Rand) terms, royalty-free (RF) on Rand terms, or RF on limited terms.
"The policy clearly acknowledges the importance of creating royalty-free standards by providing two RF modes, while still allowing for work to be done under Rand terms when members prefer that option," said Patrick Gannon, Oasis chief executive.
"While nearly all Oasis standards can be implemented today on a royalty-free basis, the revised intellectual property rights policy helps to clarify our open standards process and assure implementers worldwide that Oasis standards can be adopted with confidence."
Gartner analyst Ray Valdes said the Oasis move was driven by the changing commercial world. "The diversity of information technology systems built today is increasing significantly. This is not only with regard to their scope, complexity and interoperability, but also in the way these systems are built, and in the types of organisations that build them.
"These changes require standards organisations to articulate a broader set of approaches to intellectual property issues than has been the case in the past."
The boycott campaign is led by a number of well-known open source developers, including Bruce Perens, who supports the GPL licence standard used for Linux.
Read more on IT legislation and regulation