PayPal provides antifraud and antispam tool to users
Online payment service PayPal.com is aiming to help its users fight fraudulent e-mail phishing scams by providing a free...
Online payment service PayPal.com is aiming to help its users fight fraudulent e-mail phishing scams by providing a free fraud-detection tool from security suppliers Cloudmark.

Download this free guide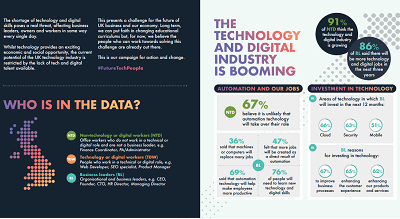 Infographic: Future-proofing UK technology
The current potential of the UK technology industry is restricted by the lack of tech and digital talent available. Read through this challenge for the future of UK business and our economy.
By submitting your personal information, you agree that TechTarget and its partners may contact you regarding relevant content, products and special offers.
You also agree that your personal information may be transferred and processed in the United States, and that you have read and agree to the Terms of Use and the Privacy Policy.
Cloudmark said its SafetyBar tool will automatically stop more than 98% of incoming spam and fraudulent e-mails headed toward users' e-mail in-boxes. The free 5.3MBytes download will protect users with Microsoft Outlook e-mail accounts.
Karl Jacob, chief executive officer of Cloudmark, said the company is working on providing the SafetyBar technology to users of other e-mail clients and has released a software developer's kit to encourage the creation of such applications.
The SafetyBar is designed to check incoming e-mail messages in real time, Jacob said, and will highlight legitimate e-mails from PayPal to identify them for users.
SafetyBar appears as a toolbar in Outlook immediately after installing the software, according to Cloudmark. Incoming messages that are identified as phishing e-mails by the software are then automatically forwarded to the spam folder.
Also included in the download is a free 30-day trial of Cloudmark's antispam protection.
"Online security is a top priority for PayPal and we continue to fight phishing attacks in every way we can," said Dave Nielsen, technical evangelist at PayPal. "We're happy to work with Cloudmark to develop tools and techniques that enhance our fraud protection initiatives."
Phishing is a scam in which legitimate-looking e-mails that appear to come from well-known banks, online retailers and credit card companies are sent out to fraudulently obtain personal and financial information from recipients.
Recipients who believe the messages are genuine and respond with their personal information become victims of fraudulent use of credit card numbers and other personal information.
Sara Bettencourt, a spokeswoman for PayPal, said reaction to the beta toolbar program was positive, which is why the company decided to distribute the toolbar to a wider group of its customers.
"It's one more protection measure that we're offering to our users," she said.
PayPal has about 56.7 million accounts open worldwide, including some 17 million active members, she said.
Todd R. Weiss writes for Computerworld