SCO caps legal costs as losses mount
With its cash reserves dwindling and losses continuing to mount, SCO Group is taking measures to cut its expenses and ensure it...
With its cash reserves dwindling and losses continuing to mount, SCO Group is taking measures to cut its expenses and ensure it will have enough cash to process its lawsuit with IBM.

Download this free guide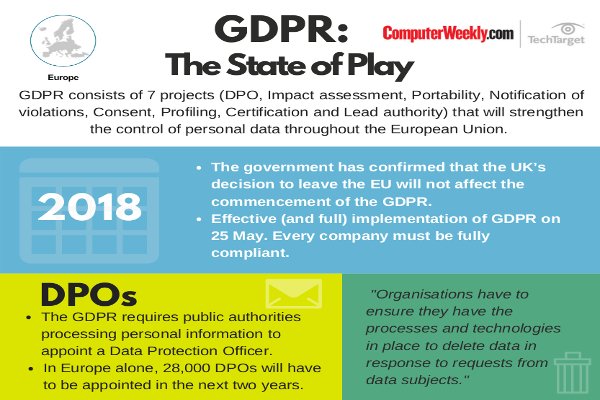 Infographic: GDPR - The State of Play
Get the latest information on how GDPR is going to affect your business and how to avoid any unwanted fines with this simple infographic.
By submitting your personal information, you agree that TechTarget and its partners may contact you regarding relevant content, products and special offers.
You also agree that your personal information may be transferred and processed in the United States, and that you have read and agree to the Terms of Use and the Privacy Policy.
SCO reported a loss of $7.4m (£4.1m) on revenue of $11.2m for the third quarter - a loss that was affected by the $7.2m in legal expenses the company incurred during the quarter, which ended on 31 July.
SCO chief executive Darl McBride referred to the legal expenses as a "high water mark" for the company and said that SCO has now worked out a deal with law firm Boies, Schiller & Flexner LLP to cap its legal costs at $31m.
Following the recent resolution of an investor dispute with Baystar Capital LP, SCO now has $43m in cash reserves, which is more than enough cash to cover the $31m it may have to pay in connection with its legal disputes, McBride said.
"The litigation business is now in control from a cost standpoint," he said.
In return for agreeing to cap its legal fees, Boise Schiller and Flexner is now entitled to a larger percentage of any legal settlement that may be reached in SCO's lawsuit with IBM over Big Blue's contributions to the Linux operating system.
The law firm will now be paid between 20% and 30% of any settlement, depending on the amount awarded, McBride said.
In a further effort to reduce costs, SCO will close offices in Spain, Italy and Ireland and plans to move its 30 California workers into smaller buildings over the next three months, said Bert Young, SCO's chief financial officer.
SCO currently has 230 employees worldwide, Young said.
SCO saw a large increase in revenue for its SCOsource division, which licenses SCO's Unix System V source code. SCOsource had taken in a mere $31,000 during the first two quarters of 2004, but revenue jumped to $678,000 during the third quarter, Young said.
"This revenue was primarily from two sources, including a transaction that was completed in a prior quarter and a new transaction that was completed in the current quarter," he said.
Young declined identify the two companies involved by name.
Although SCOsource may have increased revenue during the quarter, it was far from solvent. SCO's $7.2m in legal fees added to total expenses of $8.1m for the division during the period, Young said.
McBride blamed his company's ongoing litigation with Linux supplier Novell for the SCOsource division's poor performance during 2004. "We continue to believe that Novell's claims have greatly impacted our ability to achieve traction in this business," he said.
Novell claims to own the copyright to the Unix System V source code that is licensed by SCOsource. The System V code is also at the center of SCO's lawsuit with IBM.
In an apparent response to industry rumours that SCO may become the target of a hostile takeover bid, SCO's board of directors has implemented a "shareholders rights plan" designed to deter unsolicited takeover attempts, McBride said.
"We believe that this will basically keep any outside offers or potential takeovers that are not in the best interest of the shareholders at bay," he said.
The plan, which was adopted by the board on 10 August gives SCO's board the right to determine the "fair value" of the company in the event of a takeover attempt, McBride said.
SCO's stock, which was trading in the $20 range in September 2003, has dropped below $4 in recent weeks.
"We are very concerned about the current price of the stock vis-a-vis what we think the long-term value of the company is," McBride said. "The disparity between these two is definitely at the core of what we put in place."
Robert McMillan writes for IDG News Service


Read more on IT legislation and regulation