Wal-Mart revises RFID expectations for suppliers
Wal-Mart Stores has updated its roadmap for the company's rollout of RFID technology and discussed its revised expectations for...
Wal-Mart Stores has updated its roadmap for the company's rollout of RFID technology and discussed its revised expectations for suppliers working to meet a January 2005 deadline set last year.

Download this free guide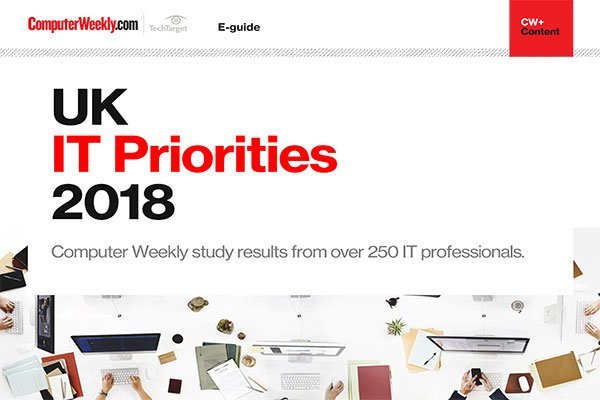 UK IT Priorities 2018 survey results
Download this e-guide to discover the results of our 2018 UK IT Priorities survey, where IT leaders shared with us what they are going to be investing in over the coming 12 months.
By submitting your personal information, you agree that TechTarget and its partners may contact you regarding relevant content, products and special offers.
You also agree that your personal information may be transferred and processed in the United States, and that you have read and agree to the Terms of Use and the Privacy Policy.
The retailer will meet with its top 100 suppliers next month to share what it has learned and refine the rollout process for its next 200 suppliers.
After going live with its top 100 suppliers - and an additional 37 volunteers - in January, Wal-Mart will continue its domestic expansion, with all domestic suppliers expected to participate by the end of 2006. The retailer will also be evaluating an international rollout.
Wal-Mart has challenged its top suppliers to tag all of the product cases and pallets they ship to its three Dallas/Fort Worth-area distribution centres by January and to ensure that the tags can be read with a 100% accuracy rate.
While the goal remains unchanged, Wal-Mart now expected that, on average, suppliers will be tagging 65% of the product cases and pallets they send to those three distribution centres in January, according to Linda Dillman, executive vice president and chief information offficer at Wal-Mart, although she admitted that figure could change.
Spokesman Gus Whitcomb said the 65% figure figure is based on feedback from suppliers.
Wal-Mart "never expected in reality 100%", but it set the goal to "shoot for 100" for everyone, including its internal team, and directed suppliers to "tell us what you can do", Dillman said.
"That way we know what's really possible. We don't want to be the ones limiting what those suppliers can do," she added.
Dillman said that Wal-Mart is expecting a "best effort" from each supplier and that compliance will be considered on an "individualised" basis.
Michael Duke, president and chief executive officer of Wal-Mart Stores Division, said he was "very passionate" about RFID, noting that barcodes transformed the way business is done, and RFID presents an even greater opportunity.
He stressed that Wal-Mart has no plans to slow the deployment of RFID. "We're full speed ahead," he said, adding that he has been pleased with the progress to date. Duke added that only two suppliers have said they need more time to meet the January date.
Wal-Mart is conducting a pilot with eight major suppliers at one regional distribution centre and seven stores in Texas. Duke urged other companies to start working with cases and pallets today.
"You don't want to be the last one in," he said.
Although the price of the RFID tags has been a concern for many suppliers, Duke said the cost has plummeted in the past year and is expected to hit five cents in the US by the end of 2006.
Carol Sliwa writes for Computerworld
Read more on IT suppliers