Budget rises will be spent on delayed purchases
IT budgets are likely to increase this year as confidence in the business climate slowly returns, according to an IDC survey of...
IT budgets are likely to increase this year as confidence in the business climate slowly returns, according to an IDC survey of British finance directors and IT managers.

Download this free guide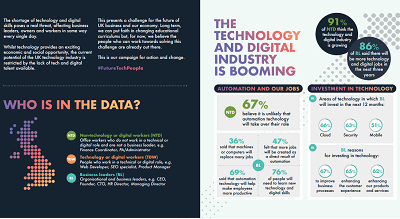 Infographic: How to future-proof UK technology
There is no doubt that the technology industry is booming right now, bringing with it exciting social and economic opportunities. However, there is a real fear that the UK industry may be stunted due to the lack of talent available. This e-guide helps to break down the future fears and expectations of dozens of business leaders and tech workers.
However, the bulk of the spending increases will go towards purchases that have been delayed for the past few years, and will only go part-way towards relieving the pressure on IT departments, IDC said.
Some factors exerting pressure on IT managers, such as lack of resources and shortages of skilled staff, were worse in this week's survey compared with the fourth quarter of last year.
Nearly half of the respondents - 42% - said they believed their IT budgets would be larger this year as a result of stronger confidence and improvement in business conditions. Economic uncertainty is still the major business challenge, at 23%, but this is down from 30% in the previous quarter.
Nearly two-thirds of companies planned to replace PCs, and 43% said they would replace server equipment. The respondents all had some say in the budget-making process.
The survey showed that IT departments are still struggling for what are seen as necessary purchases. When asked whether their companies would allocate "necessary budget increases" for IT spending this year, just under half felt only "slightly positive", and 17%felt positive. The remaining 46%, therefore, felt they were likely to be short of necessary funding.
"What we can see from this survey is that business activity is picking up, but IT funding has not followed yet," said IDC analyst Elsa Opitz.
"The business decision makers are being very sceptical and cautious, and budgets are not growing as much at they should at the moment, placing pressure on CIOs and IT managers."
However, Opitz noted that optimism had not deteriorated from the previous quarter. "At the moment the attitude is cautious, but less cautious than the fourth quarter of last year," she said, adding that companies will be re-evaluating their budgets later in the year, with the majority of spending planned for the second half, so that the situation could improve further.
Figures from other researchers also show a positive trend in IT spending. The 11th annual CMA survey of telecoms managers, published in February, found that capital expenditure was on the rise during 2003, while companies spent less on telecoms services because of falling prices.
Separately, IDC said last week that IT spending in the EU overall could get a boost from the accession of 10 new member states. IDC forecast that IT spending in the more mature new member states would shift from infrastructure to higher-level systems, with growth of 10% or more.
Matthew Broersma writes for Techworld.com
Read more on IT supplier relationship management