UK businesses still shrug off spam, says survey
According to a survey buy the Department of Trade and Industry, nearly all UK businesses receive spam but only one in 10...
According to a survey buy the Department of Trade and Industry, nearly all UK businesses receive spam but only one in 10 companies consider it a serious problem.

Download this free guide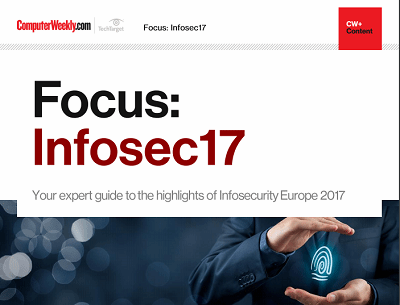 From forensic cyber to encryption: InfoSec17
Security technologist Bruce Schneier's insights and warnings around the regulation of IoT security and forensic cyber psychologist Mary Aiken's comments around the tensions between encryption and state security were the top highlights of the keynote presentations at Infosecurity Europe 2017 in London.
By submitting your personal information, you agree that TechTarget and its partners may contact you regarding relevant content, products and special offers.
You also agree that your personal information may be transferred and processed in the United States, and that you have read and agree to the Terms of Use and the Privacy Policy.
The DTI's biennial Information Security Breaches Survey, conducted by a consortium led by PricewaterhouseCoopers (PWC), found that while the UK has already adopted the EU spam law, it found that only one in five companies have bothered with filtering products, and a third of businesses do not consider spam an issue.
The number of companies using e-mail as an "important business communications channel" rose from 80% two years ago to 93%.
Small businesses, in particular, are not keen to spend money on filtering software. Less than half (44%) of large UK businesses have spam filters in place, the overall figure is 20%.
However, 55% of the companies polled said that the amount of spam they receive is increasing, and it may become a problem in future, PWC said.
Kit Constable, infrastructure manager for Numerica Business Services Group, said that while Numerica does get a lot of spam, "we find it's not a problem. [Microsoft] Outlook 2003's built-in spam filter copes with it".
Numerica's IT department did not want to set filter levels, preferring for users to decide what to read and what to delete, he said.
While the company had looked at various spam filters, including one offered by Numerica's virus protection supplier MessageLabs, Constable said, "Outlook's filter is just so good we don't need it."
While UK businesses do not seem too perturbed by spam, international efforts to combat it have increased.
In February, the Organisation for Economic Co-operation and Development held a conference in Brussels on spam, and urged governments around the world to step up antispam efforts, claiming spam accounts for over half of all e-mails.
Major internet companies are also getting tough on spam. Earlier this month, America Online, EarthLink, Microsoft and Yahoo joined forces to sue 220 alleged spammers under the US CAN-SPAM (Controlling the Assault of Non-Solicited Pornography and Marketing) law which came into effect in January.
Gillian Law writes for IDG News Service
Read more on IT risk management