Law needs to address open-source IP issues
Legislative remedies may be needed to address the issues over intellectual property which have arisen out of SCO's lawsuit...
Legislative remedies may be needed to address the issues over intellectual property which have arisen out of SCO's lawsuit against IBM.
SCO is suing IBM and DaimlerChrysler over use of Linux code, to which SCO claims it holds rights under its jurisdiction over Unix. But the issues are not that simple, according to panelists at the Open Source Business Conference in San Francisco.

Download this free guide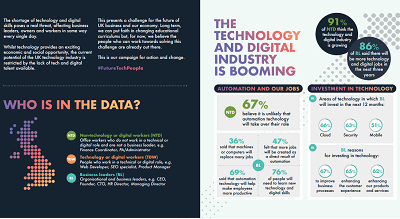 Infographic: How to future-proof UK technology
There is no doubt that the technology industry is booming right now, bringing with it exciting social and economic opportunities. However, there is a real fear that the UK industry may be stunted due to the lack of talent available. This e-guide helps to break down the future fears and expectations of dozens of business leaders and tech workers.
Law has not quite caught up to software intellectual property issues, said US attorney Irwin Gross. "Under existing copyright laws, software is protected like literature. It's treated like a book," Gross said. The law was not made to address the copying of small snippets of code that go into larger projects, he said.
"I think eventually there will be regulatory responses to this," said Gross.
A private market for risk management insurance will arise for open source, but he added "I think we're going to see legislative solutions" as well.
Another panelist, attorney Mark Radcliffe of Gray Care Ware and Friedenrich, said third-party solutions are needed to provide indemnities.
Open source provides an area of risk and uncertainty that is much higher than proprietary software. The definition of copyright infringement in the US is not even known, Radcliffe added.
"In the open-source arena, you sue someone and if you win you have an enormous opportunity to collect," said Gross.
An infringing party would have to pay damages based on all sales made through use of the code. Microsoft has an interest in the SCO lawsuit because Microsoft, with its business model, cannot compete against open source, he said.
Lawrence Rosen, an attorney with Rosenlaw & Einschlag and general counsel with the Open Source Initiative, stressed the importance of the copyright infringement lawsuit.
This lawsuit affects the fundamental open-source model. The Supreme Court has never clarified the issue of copyright infringement, he said.
"There is an implication that there is something unsafe about open source and you should approach it carefully, be cautious, don't use it, use it only with extensive testing," Rosen said.
Paul Krill writes for InfoWorld
Read more on IT legislation and regulation