Deutsche Telekom pushes broadband
Deutsche Telekom will unveil three DSL (Digital Subscriber Line) broadband connections, a new home service and an extended...
Deutsche Telekom will unveil three DSL broadband connections, a new home service and an extended high-speed wireless offering at the CeBIT show in Hannover.

Download this free guide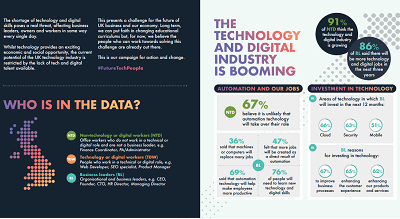 Infographic: Future-proofing UK technology
The current potential of the UK technology industry is restricted by the lack of tech and digital talent available. Read through this challenge for the future of UK business and our economy.
By submitting your personal information, you agree that TechTarget and its partners may contact you regarding relevant content, products and special offers.
You also agree that your personal information may be transferred and processed in the United States, and that you have read and agree to the Terms of Use and the Privacy Policy.
Beginning next month T-Com, the fixed-line unit of Deutsche Telekom, will offer its 4.2 million DSL customers three different bandwidth packages.
For €16.99 a month, they will receive a flat-rate connection with download speeds of up to 1.024Mbps and upload of 128Kbps. For €19.99 a month, users will get a connection with download speeds of up to 2.048Mbps and upload of 192Kbps, and for €24.99 users will get connection with download speeds of 3.072Mbps and upload of 384Kbps.
The DSL offerings replaces two existing packages, a €19.19 a month connection with download speeds of up 768Kbps and upload speeds of 128Kbps; and a €29.99 a month connection with download speeds of 1.536Mbps and upload speeds of 192Kbps.
"From April customers will pay up to 33% less for a better service," said Josef Brauner, chief executive officer of T-Com and a member of the board of management of Deutsche Telekom.
For customers, particularly small and medium-sized enterprises, seeking high-speed connections in both directions, T-Com will offer new symmetrical services also in the 1Mbps, 2Mbps and 3Mbps speed ranges.
Businesses requiring even higher-speed connections can subscribe to T-Com's CompanyConnect service and receive a link, that links them directly to the operator's IP backbone.
The network, one of Europe's largest, transports 30,000 terabytes a month, Brauner said.
Over the coming months, Deutsche Telekom's fixed-line division will build 10,000 new hotspots in public areas, in addition to the several hundred already in operation. Until 30 September, DSL customers can use the hotspots for a flat fee of €9.99 per month. From October, the same monthly fee will buy them three hours of connectivity.
In January, T-Com will launch a service allowing customers with WLan-enabled devices to make voice-over-IP phone calls from any of its hotspots and have the calls charged to their phone bill.
T-Com also plans a broadband initiative in the second half of this year. As part of the initiative, the operator will offer an "intelligent" bundle of fixed-line and wireless services, including e-mail, surfing and video, using a single user interface.
The user interface will adjust to all different types of terminals automatically, including PDAs and PCs, allowing users to pick up messages "with any device, any place", he said.
John Blau writes for IDG News Service