IBM supercomputer helps predict the Earth's climate 300 years into the future
IBM has built a supercomputer that will serve as a "virtual climate time machine" for researchers at the University of...
IBM has built a supercomputer that will serve as a "virtual climate time machine" for researchers at the University of California, who will use it to model the Earth's surface, atmosphere and oceans for up to 300 years into the future.

Download this free guide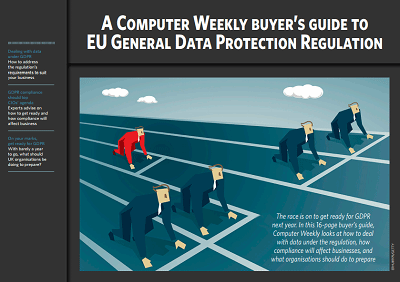 Computer Weekly's Buyer's Guide to GDPR
The race is on to get ready for GDPR next year. Computer Weekly looks at how to deal with data under the regulation, how compliance will affect businesses, and what organisations should do to prepare.
By submitting your personal information, you agree that TechTarget and its partners may contact you regarding relevant content, products and special offers.
You also agree that your personal information may be transferred and processed in the United States, and that you have read and agree to the Terms of Use and the Privacy Policy.
The supercomputer, called the Earth System Modelling Facility, consists of seven clustered IBM eServer p655 servers which are each equipped with eight Power4+ CPUs, plus an IBM eServer p690, which includes 32 Power4+ CPUs.
It runs AIX Unix and will cost just over $1m, according to David Turek, vice-president of deep computing at IBM. The 528GFlops system is capable of calculating one billion floating-point operations per second (Flops).
Also included in the setup is 32TBytes of RAID5 storage using two IBM xSeries 335 servers running Red Hat Linux and Sistina Software's Global File System.
The machine will be used by researchers in the university's Davis Department of Earth System Science to predict the impact of global warming, pollution and other stresses on the earth.
Among the questions to be analysed is how global warming, man-made pollutants, polar-ice movements and chemical cycles will affect the Earth and its inhabitants.
In its present configuration, the machine offers a large processing punch at a relatively low price for a supercomputer, enabling smaller groups access to more powerful machines.
Results of the research will be provided to the National Science Foundation (NSF) and other national climate modelling efforts. The Earth System Modelling Facility is being paid for with money from the NSF and the university.
Charles Zender, assistant professor of Earth system science at the university's Davis department, said the supercomputer will allow researchers to pursue data-intensive research using large geophysical data sets.
Todd R Weiss writes for Computerworld

Read more on Server hardware