Apple debuts iPod mini and GarageBand software
Apple Computer's chief executive officer Steve Jobs unveiled a slimmed-down companion to its popular iPod portable music player...
Apple Computer's chief executive officer Steve Jobs unveiled a slimmed-down companion to its popular iPod portable music player during a keynote address at Apple's user conference in San Francisco yesterday.

Download this free guide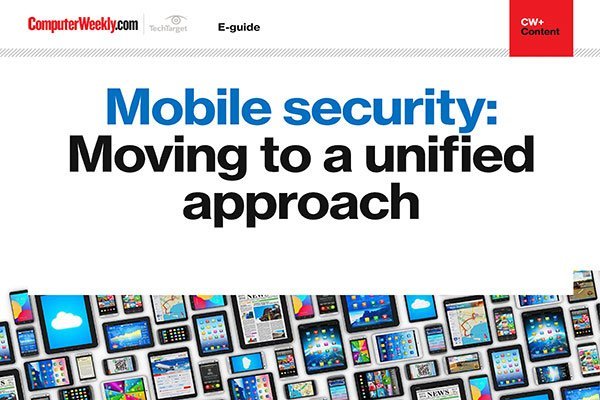 3 expert insights into how mobile security is evolving for business
Download this e-guide to read expert insights into how the current trends in mobile security strategy are showing a move from mobile device management, to enterprise mobile management and unified endpoint management - indicating an evolution towards a unified approach to mobile security.
By submitting your personal information, you agree that TechTarget and its partners may contact you regarding relevant content, products and special offers.
You also agree that your personal information may be transferred and processed in the United States, and that you have read and agree to the Terms of Use and the Privacy Policy.
The iPod mini, which will begin selling in the US next month for US$249, is about 13mm thick and about the length and width of a business card. With a tiny 4Gbyte hard drive, it will be able to hold about 1,000 songs.
UK iPod fans will have to wait until April to buy the mini.
Jobs said the iPod mini will target the 31% of the digital music player market now dominated by flash memory player companies such as Digital Media Networks' Rio audio player.
Apple sold 730,000 iPods during its most recent quarter, and shipped its two millionth iPod sometime in December.
Jobs also touted new software for Mac OS X, such as Microsoft's Office 2004, Macromedia's Director MX, and Bakbone Software's NetVault. The Mac OS X platform now boasts approximately 10,000 applications.
Jobs also unveiled the latest version of Final Cut Express video editing software, and demonstrated Apple's multimedia editing suite, iLife '04, which will begin shipping free with the Macintosh, or for $49 separately, from 16 January.
iLife '04 will include a new music editing application called GarageBand, which Jobs demonstrated onstage with the help of musician John Mayer.
GarageBand can be used to mix up to 64 music tracks digitally, which can either be recorded live or created with the 50 software "instruments" included in the program.
"It turns your Mac into a professional quality musical instrument and complete recording studio," Jobs said. "One half of all households have at least one person who plays a musical instrument. This is a really big market and we think GarageBand is going to appeal to these folks."
On the music consumer side of things, Jobs announced that Apple's iTunes music service has now sold its 30 millionth song, and is now distributing close to 1.9 million songs per week, out of a total catalogue of half a million songs.
Jobs also unveiled a new dual-processor 1U Xserve server. Based on a 2.0GHz PowerPC processor, the Xserve will start at $2,999 for single processor and cluster-optimised configurations when it begins shipping next month.
Apple expected the cluster-optimised servers to be used in high-performance computing environments, like the 2,200-node Mac supercomputer built by Virginia Polytechnic Institute and State University..
Robert McMillan writes for IDG News Service
Read more on Mobile hardware