European IT chiefs plan more investment in 2004
The latest research from analyst firms suggests that the first shoots of recovery in the IT sector may be emerging, with a rosier...
The latest research from analyst firms suggests that the first shoots of recovery in the IT sector may be emerging, with a rosier outlook predicted for 2004.

Goldman Sachs' recent report on European software and technology services said IT spending was now stabilising after three years of downturn and analysts predicted it would rise between 3% and 5% next year.

It forecast that the focus of IT budgets would shift to technologies that have a potential to boost profits, such as CRM. Its survey of European chief information officers also suggested that nearly 70% have postponed IT spending so far in 2003 because of budget limits. However, 60% of these expected to make their investments before the end of next year.

More promising figures came from IDC, which reported that the UK server market continued to show signs of recovery in the second quarter of this year. It experienced 14.5% growth compared to the second quarter of 2002, with more than 60,000 server systems being sold for the second consecutive quarter.

There is also scope for optimism in the PC market, according to Gartner. Stronger-than-expected second quarter results have led the analyst firm to slightly raise its forecast for global third quarter PC shipments.

Worldwide PC shipments are now forecast to reach 39.8 million units in the third quarter of this year, a 9.6% increase over the same quarter last year. Gartner analysts also expected PC shipments to reach 161.3 million units in 2003, an 8.9% increase on 2002.

Key themes driving growth include new financial services regulations such as Basel 2 and the UK government's continued investment in major IT projects, with massive technology overhauls already underway across much of the public sector.

Goldman Sachs expected Whitehall to award contracts worth £8bn during the second half of this year in the NHS, Inland Revenue and the Department for Work and Pensions.

But Chris Wicka, director of market research company Kew Associates, which in association with Computer Weekly produces the Computer Weekly IT Expenditure Report, said, "It is too early to say what will happen in the UK but there have been a lot of positive indicators in the last month or so. If that comes to fruition then IT will recover."

He added that the current economic slowdown has not been as severe as the one that hit British businesses in the 1990s. "We have had a decline for about two years but it is not as steep as the one in the early 1990s."

Download this free guide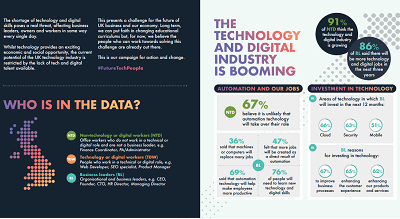 Infographic: Future-proofing UK technology
The current potential of the UK technology industry is restricted by the lack of tech and digital talent available. Read through this challenge for the future of UK business and our economy.
By submitting your personal information, you agree that TechTarget and its partners may contact you regarding relevant content, products and special offers.
You also agree that your personal information may be transferred and processed in the United States, and that you have read and agree to the Terms of Use and the Privacy Policy.
Key signs of recovery in the IT market
Goldman Sachs
70% of European CIOs admit to freezing IT spend in 2003 but 60% of them say they will lift the ban by the end of 2004
2003 IT spend stabilised
UK government to sign contracts worth £8bn before end of 2003
European software and technology services spending growth to be between 3% and 5%
IDC
UK server market grew by 14.5% in second quarter 2003 compared with same quarter 2002
Gartner
Worldwide PC shipments to rise by 8.9% on 2002.
Jobs market shows upturn signs >>
Read more on IT supplier relationship management