Avaya proves profitable in third quarter
Avaya announced a profit of $8m (£4.9m) for its third financial quarter on revenue of $1.07bn (£660m), its first profitable...
Avaya announced a profit of $8m (£4.9m) for its third financial quarter on revenue of $1.07bn (£660m), its first profitable quarter in two years.

Download this free guide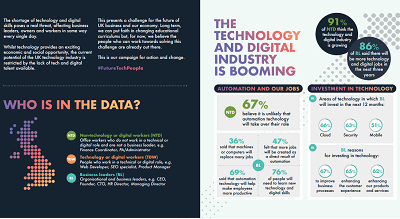 Infographic: How to future-proof UK technology
There is no doubt that the technology industry is booming right now, bringing with it exciting social and economic opportunities. However, there is a real fear that the UK industry may be stunted due to the lack of talent available. This e-guide helps to break down the future fears and expectations of dozens of business leaders and tech workers.
The communications equipment and services provider said Merrill Lynch was purchasing Avaya IP telephony gear to serve 7,600 workers at one of its US corporate offices and its Tokyo regional headquarters.
Chairman and chief executive officer Donald Peterson said the Merrill Lynch deal is an example of increasing purchases of IP gear offsetting declining sales of traditional circuit-switched private branch exchange (PBX) hardware for telephony.
A Merrill Lynch spokesman said the Avaya technology will replace equipment from Cisco Systems because the company is adopting a global policy to keep redundancy in its networks, which is not possible with Cisco's IP networking gear.
Merrill Lynch is purchasing both digital and IP telephones from Avaya so that the circuit- and packet-switched networks will provide backup for each other.
Avaya has PBXs that operate in the time division multiplexing mode, which is packet-switched, with the capability of adding IP telephony.
Peterson said that "confidence is slowly returning" with revenue "seeming to stabilise, particularly in the US".
Third-quarter revenue of $1.072bn was slightly below the second quarter's $1.081bn.
For the first three quarters of 2003, revenue totalled $3.22bn (£1.99bn), a decline of 15.4% from the $3.8bn (£2.3bn) posted during the same nine months in 2002.
Services offered by Avaya were by far the most profitable segment of the company, bringing in $458m (£282m) in revenue and $43m (£27m) in profits.
In comparison, the sale of hardware and software to enterprises resulted in a $13m (£8m) loss on revenue of $416m (£256m).
Matt Hamblen writes for Computerworld