SCO gives analysts a taste of evidence
The SCO Group has revealed to industry analysts details of some of the Linux source code that it claims was illegally copied from...
The SCO Group has revealed details of some of the Linux source code that it claims was illegally copied from Unix to industry analysts.
But analysts have varying opinions about the significance of what they were shown and how it fits in with the $1bn (£600m) lawsuit that SCO filed against IBM in March.

Download this free guide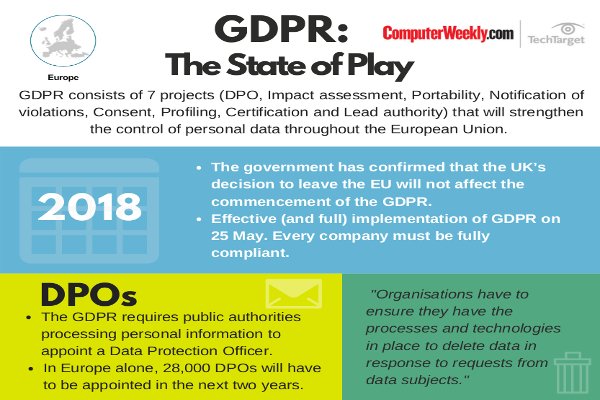 Infographic: GDPR - The State of Play
Get the latest information on how GDPR is going to affect your business and how to avoid any unwanted fines with this simple infographic.
By submitting your personal information, you agree that TechTarget and its partners may contact you regarding relevant content, products and special offers.
You also agree that your personal information may be transferred and processed in the United States, and that you have read and agree to the Terms of Use and the Privacy Policy.
SCO alleges that IBM misappropriated its Unix trade secrets by putting some of the code into Linux.
Laura DiDio, an analyst at The Yankee Group in Boston, said she saw two or three samples of the allegedly infringing Linux code that appeared to be a "copy and paste" match of the SCO Unix code.
But DiDio and the other analysts were able to view the code only under a nondisclosure agreement.
"Based on what I'm seeing I think there is a basis that SCO has a credible case," she said. "This is not a nuisance case."
George Weiss, a Gartner analyst, recently reviewed several supporting documents that gave SCO the rights to Unix and at least gave credence to SCO's claims, he said.
Bill Claybrook, an analyst at Aberdeen Group, said the code he viewed shows that SCO could have a claim.
But although he was shown code that was the same in both Unix and Linux, there was no way to determine the origin of the code, he said.
Todd R Weiss writes for Computerworld
Read more on IT legislation and regulation