Nokia brings Edge technology to Europe
Nokia's launch of its first Edge (Enhanced Data Rates for GSM Evolution) mobile network at CeBIT, highlights the question of...
Nokia's launch of its first Edge (Enhanced Data Rates for GSM Evolution) mobile network at CeBIT, highlights the question of whether this is the last major step towards 3G adoption, writes Antony Savvas. The Nokia 6220 can support data rates of up to 118kbps.

At the 3GSM World Congress in Cannes, which preceded CeBIT, analysts predicted that Europe would never see an Edge network because operators were planning to jump straight to 3G from GPRS networks.

It was argued that European users had no need for a technology that offered speeds much faster than the 25kbps-50kbps GPRS solution. Analysts said 3G is almost here and Edge will probably only find a market in the US, which is lagging behind Europe on 3G deployment, and the Asia Pacific region, where operators are more keen to mix and match the access technology they use.

But the position of Edge in Europe was not so clear cut as far as the handset suppliers at CeBIT were concerned. Anssi Vanjoki, executive vice-president of Nokia Mobile Phones, was adamant that European users would see an Edge network this year. He said, "There are various factors to consider, including deployment costs for the operators, but we do expect to see Edge in Europe."

The Nokia 6220 will be joined by Edge phones from Motorola that will initially be launched in the US.

A spokesman for Motorola said, "We have an operator in Europe which is seriously looking at the Edge technology, and we would expect the tri-band Edge phones weare launching first in the US this year will soon be roaming on a European Edge network."

Companies in the UK already have the pick of many GPRS services and will no doubt consider moving to 3G when it becomes a widespread solution sometime this year.

However, Edge is based on tried and tested GSM technology, so if it does appear in the UK, it could be a serious challenger to 3G in the business sector.

Download this free guide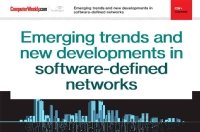 How to implement an effective software-defined networking training strategy
In this e-guide we sit down with CIMI's Tom Knolle to explore some of the emerging SDN service models and how adopting SDN can help to monetise the enterprise network and improve business outcomes.
What is Edge?
Edge (Enhanced Data Rates for GSM Environment), a faster version of the Global System for Mobile Communications, is designed to deliver data at speeds up to 384kbps and enable the delivery of multimedia and other broadband applications to mobile phone and computer users. The Edge standard is built on the existing GSM standard, using the same time-division multiple access frame structure and existing cell arrangements.
Read more on Wireless networking