IBM builds grid for smallpox research
IBM, along with two partners, is driving a global research effort that will focus on developing new drugs to combat smallpox.
IBM, along with two partners, is driving a global research effort that will focus on developing new drugs to combat smallpox.
The project will employ a huge computing grid designed to let up to two million users contribute their idle computing resources to the effort.
The Smallpox Research Grid Project, which will combine the efforts of IBM, United Devices and Accelrys, will help feed leading screening researchers at the universities of Oxford and Essex, as well as smallpox experts at the Robarts Research Institute and Sloan Kettering Cancer Centre in the US.

Download this free guide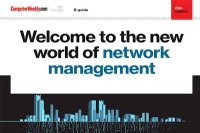 5 essential network management tips
Discover how the role of the network manager is undergoing radical change as the world of networking moves into the cloud with the transition towards software-defined, virtualised infrastructures and begins to incorporate elements of automation and machine learning.
The Grid Project, which went live on 5 February, is based on existing technologies and services from IBM, United Devices, Accelrys and Evotec OAI.
A project spokesman said the grid will enable researchers to pool computing resources including processing, network bandwidth, and storage capacity.
When the two million PCs are linked they will act as a virtual supercomputer capable of delivering 1,100 teraflops at peak performance.
"We are deploying technology that will be applicable not only for finding a cure for smallpox, but in the future can be easily adapted for other challenges," said Michael R Nelson, director for IBM's Internet Technology and Strategy.
"We can see other projects in the commercial sector that need enormous amounts of number-crunching also taking advantage of this, such as gas and oil exploration''
United Devices, whose Global MetaProcessor platform will harvest the idle power of all participating PCs and servers, is the co-ordinator of all aspects of the project.
IBM's eServer p690 servers and its Shark Enterprise Storage Server running under Big Blue's DB2 database will power the project. The database will be capable of handling 15 million SQL queries a day, along with managing all aspects of the data.
Those wanting to take part in the Grid Project can download a screensaver at www.grid.org. The screensaver will donate the computer's idle processing power and link it into the worldwide grid.
Once processing on an idle system is complete, the program will send results back to United Devices' datacentre and will request new data to analyse. The individual system then returns the results the next time the user connects to the Internet.
Read more on IT project management