Firms move operations abroad to avoid RIP Bill
UK users have given up on the Government's proposed interception regime and are already moving their IT processing operations...
UK users have given up on the Government's proposed interception regime and are already moving their IT processing operations abroad to avoid its powers.
David Bicknell
Banks, petrochemical and pharmaceutical companies are among the organisations understood to be quietly moving their operations to prevent further government scrutiny.

Download this free guide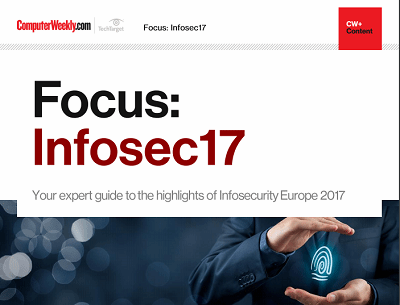 From forensic cyber to encryption: InfoSec17
Security technologist Bruce Schneier's insights and warnings around the regulation of IoT security and forensic cyber psychologist Mary Aiken's comments around the tensions between encryption and state security were the top highlights of the keynote presentations at Infosecurity Europe 2017 in London.
By submitting your personal information, you agree that TechTarget and its partners may contact you regarding relevant content, products and special offers.
You also agree that your personal information may be transferred and processed in the United States, and that you have read and agree to the Terms of Use and the Privacy Policy.
The action follows a warning from pressure group Eurim, repeated at the third reading of the Regulation of Investigatory Powers' (RIP) Bill this week, that firms are prepared to move their offices offshore to escape the legislation's implications.
Although the Bill's controversial powers - which incorporate a "reverse burden of proof" over encryption keys - have been strongly criticised by politicians, Internet Service Providers, and security specialists, much of the debate has been driven by civil liberties concerns over human rights.
Users - who include some of the UK's key financial organisations - believe not enough attention has been paid to the effect of the proposals on day-to-day business operations.
Many of the RIP proposals are being introduced through secondary legislation, and are being drawn up in terms that will help prevent them becoming redundant through future technology changes.
Users feel this lack of clarity means that warrants could be abused to facilitate a whole string of queries - not just from law enforcement concerns, but a whole string of investigations from government agencies.
Although many of the moves overseas are quiet, even covert, and have not been made public, organisations such as the bank HSBC have already made clear their intention to pilot some processing operations in the Far East. The move has been made with costs in mind, but the spectre of the RIP Bill has given users a ready-made excuse to expedite their plans.
Other users, such as Vodafone, have made clear their concerns over the implications for e-commerce.
The Bill has already worried unions such as Bifu and MSF, which fear a jobs exodus. "We are concerned about RIP," said a Bifu spokesman. "It is not going to help retain jobs here."
But despite the jobs threat, some experts believe users are wasting their time shifting processing, because similar interception regimes are likely to be repeated abroad. European governments such as the Netherlands are already said to be considering Britain's stance.
Nick Mansfield, a security expert with Shell in the Netherlands, said, "Other countries have similar interception powers to the UK. The question is whether they will implement them as publicly, or simply introduce it quietly, with the acquiescence of business, which can see it coming anyway."
More on the third reading of the Bill,Groundswell
Read more on IT risk management