City boardrooms: the awakening of the giants
As City chiefs pick over the wreckage of the dotcom boom, they are beginning to realise the multi-trillion dollar potential of...
As City chiefs pick over the wreckage of the dotcom boom, they are beginning to realise the multi-trillion dollar potential of e-business. John Riley reports on how the financial bigwigs plan to address the future.
Shocked by the dotcom hysteria last autumn, and emboldened by the shake-out in spring, large financial services corporations are currently embarking on a massive phase of e-business investment.

Download this free guide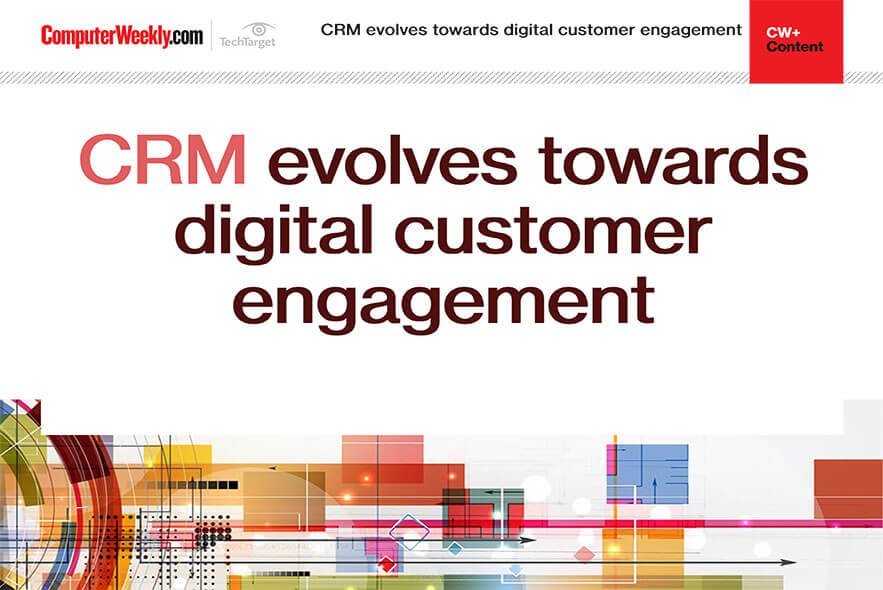 Why customer relationship management is turning to AI for assistance
In this e-guide, we look at how AI is powering retail customer experience, why SAP Hybris could paint the future of commerce and how Ulster bank is faring after adopting a full-scale Salesforce Einstein CRM.
They now recognise the scale of the opportunity, the revolutionary impact on the traditional markets and the need for major structural change.
Put bluntly, the giants are awakening, said Richard Sharp, managing director of Goldman Sachs, speaking recently to about 100 key City decision makers at this year's Grasping the Nettle City conference organised by the Worshipful Company of Information Technologists. Sharp illustrated how seven top European banks between them are spending several billion euros on e-business this year. He estimated that this investment comprises about 15% of their pre-tax profits.
The scaled-up investment reflects clearer awareness of the enormous potential returns. At the conference Judith Mayhew, chairman of policy and resources for the Corporation of London, noted that current business-to-business activity worldwide is worth $47trillion. Of this, 65% ($30trillion) will eventually be conducted electronically. Electronic marketplaces, she reckoned, will process 40% ($12trillion) of that, and that if they charged just 3.5% commission fees their market would amount to $400bn a year.
The dotcom crash earlier this year, when the Nasdaq high-tech index dropped about 21%, disguises the true picture of underlying growth, said Sharp.
He warned that the threat of the Internet to traditional companies has not diminished as many dotcoms have outperformed the markets this year, some by an average of 156%. Despite the declines, the global e-suppliers are still currently capitalised at $1.5trillion, he said. Investors still anticipate a good return. With more than 500 million Internet users worldwide by the end of 2002, global e-commerce revenues will reach $1.5trillion by 2003, to match current capitalisation.
Woolwich chairman and former Lord Mayor of London, Sir Brian Jenkins, drew attention to the enormous change in City of London IT since the May 1999 Grasping the Nettle conference. "It's a different world - there was [virtually] no mention of wireless application protocol, digital TV or dotcoms. The progress since then is huge, with the development of financial exchanges, alternative trading networks and a greater take-up of customer relationship management."
He added that the Woolwich has seen a "strange reversal of priorities". He said, "We outsource the processing of mortgages, but we keep the routing of telephone calls in-house." Alongside the growth in mainstream e-business investment is the fast growing realisation that the Internet has broken up the physical elements of the traditional value chain and information flows.
The old business model, where information was forced to flow along a linear value chain enabling good margins from the fuzzy areas, has exploded. Processes are now transparent and value chains fragmented, enabling componentisation of financial products.
The result is that corporations can no longer rely on a mixed bundle of financial products. "The only way forward is to ensure you have best of breed," said Booz Allen Hamilton's director of European operations David Newkirk.
A similar process is taking place in the management structures of city institutions with flattened hierarchies. "There's a devolution of power upwards and downwards in corporations," he added.
The Internet also marks the beginning of the end for long-term pre-planning in organisations as traditional value chains disintegrate. "We will see the end of corporate Stalinism, where corporations allocate investments, such as staffing and resources, on a pre-planned basis," observed Newkirk.
Technology is no longer seen as an issue. For a start, there is less technophobia now, with 95% of business travellers using the Internet on their desktop. "Technology is not a pacing factor in the new business models," said Newkirk. "We talk less about technology but a lot more about the underlying forces."
Adapting to the speed of change is now crucial. "You do not have to be first with the new e-technologies, but you must be early," said Sharp.
Another major trend is that corporates are now moving into a new phase of how they value information. "In the first wave the focus was on creating value," said Newkirk. "It was a landgrab, getting eyeballs."
Whereas, he said, the second wave is about capturing value - with an explicit focus on supplying what customers want, and on profitability and sustainability.
Mike Harris, chief executive officer of Egg, also speaking at the conference put it, "Human attention is the one thing that's scarce - the main value of the future will be from competition for human attention. Any uncertainty that the IT director might feel about the future is certainly reflected at board level too."
"What happens after the revolution?" asked Newkirk. "We are seeing the dust settle - we can't predict the outcome but can take more intelligent guesses of where the battles will be." "There are no universal rules now except one," said Sharp. "Every company must rethink its strategy - every manager must question the value and sustainability of each part of their business."
The dotcom high- and low-flyers
The dotcom shake-out was selective - not all were losers. Many companies outperformed the overall average for the whole of the Nasdaq market of -21%
Nasdaq Outperformers
(average +156%)
Juniper Networks
Check Point
Applied Micro Circuits
Adobe Systems
Broadcom
Siebel Systems
I2 Technologies
Nasdaq Under performers
(average -83%)
Internet Capital Group
Doubleclick
Priceline
CMG
Yahoo!
Verticalnet
Amazon
PSInet
Source: Goldman Sachs
London as a financial centre: no room for complacency
Two years ago many people believed that better communications and the Internet would lead to the break-up of the main financial centres, with London, Tokyo and New York losing business to newly established niche centres and electronic exchanges.
But, said the Corporation of London's Judith Mayhew, that has not happened. "With the exception of the back office and software development, electronic information has actually reinforced our ability to operate in one place," she said.
She added that the technology had helped London take on more fund management at the expense of smaller centres. International financial services firms base themselves in London now to benefit from liquidity, high trading volumes and quality services.
The City of London, Mayhew said, also enjoys the largest and most open telecoms market in Europe, has the world's largest Internet hub and is one of the world's top three world financial software industry centres.
However, London must not take that success for granted, warned Richard Sharp, managing director of Goldman Sachs. "It's now about where talented people choose to go. Northern Europe isn't physically the greatest place in the world, and within Europe Munich, the south of France and even Stockholm are a threat," he said.
He stressed that key people are now looking at quality of infrastructure - such as transport, health and education. "Boston, for instance, is now preferred by fund managers to New York," he said.
Pre-conditions for a prosperous e-City, Sharp stressed, include:
Attractive tax and fiscal policies
Top IT/telecoms network and infrastructure
Efficient public transport and utilities
Leading education and training services
Top public services (such as hospitals).

Mayhew, who is also City and business adviser to the Mayor of London, stressed that London is sorting out the Underground problems, and that public education and the health service are next on the agenda.
Read more on Business applications