The best and worst case scenarios for CIOs in 2011
What will 2011 bring for CIOs? We've got predictions, but not just the usual optimistic guesses. We've also asked some pundits for their worst-case scenarios, too!
Predictions stories generally offer a bright outlook, so here at SearchCIO ANZ we thought we could give industry figures a chance to get that out of their system ... and then offer their views of the worst things that could happen to CIOS in 2011. So without any further ado, let's start with their ...

Download this free guide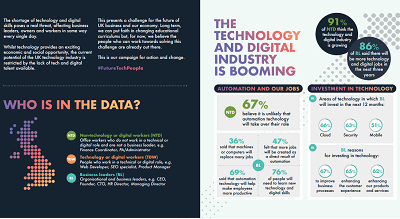 Infographic: How to future-proof UK technology
There is no doubt that the technology industry is booming right now, bringing with it exciting social and economic opportunities. However, there is a real fear that the UK industry may be stunted due to the lack of talent available. This e-guide helps to break down the future fears and expectations of dozens of business leaders and tech workers.
Best case scenarios
CIOs avoid becoming mere gatekeepers
Matthew Johnston, Director of Product Management - APAC, Quest Software:
The rapid uptake of technologies such as cloud computing will see the role of the CIO change from one of being an expert in the technologies they manage on a day-to-day basis to simply being the gatekeeper of outsourced technologies. The modern day CIO will need a different skill set - one that is more business oriented and will see IT making a significant contribution to meeting business goals, rather than focusing purely on the technology. The challenge for the IT manager will be how these applications are secured, managed and integrated back into the business to enable effective collaboration.
The majority of CIO's become "CFO's of Information"
Clive Gold, Marketing CTO, EMC
By transforming their infrastructures to private clouds and adopting cloud computing, CIO's have moved IT from a cost centre to a business enabler. CIO's are now an enabler of business agility and are helping business innovation by leveraging information assets.
Cloud and consumerised IT take off and deliver value
Ms Lee Ward, Vice President and General Manager for Information Technology Outsourcing (ITO) and Infrastructure Support Services (ISS), Unisys Asia Pacific:
We will start to see real and working examples of the benefits of cloud computing used by large organisations with demonstrated benefits and return on investment. As a result enterprises that are considering moving mission critical applications into the cloud environment will gain the confidence to implement their cloud strategy.
We will start to see more real business cases and examples of high profile organisations incorporating consumer technology and social media into their core business applications. In particular they will figure out how to use it to better engage customers.
Lots more companies appoint CIOs
Simon Sharwood, Editor, SearchCIO ANZ
Plenty of companies have IT managers. But surprisingly few formally create roles in which strategic thinking about how to use information is a key part of a job.
A great scenario for CIOs in 2011 would be for CIOs – or at least a part of a CIO's job – to become something that tens of thousands of businesses make a part of their plans.
Worst case scenarios
Outsourcers let CIOs down
Matthew Johnston, Director of Product Management - APAC, Quest Software: Outsourcers let CIOs down
The shift away from employing technology experts to perform the role of the CIO may lead to missed opportunities through ignorance to the latest trends and developments in the technology industry. CIOs will be relying on their outsourcing partners to be their experts and will need to ensure that contracts are detailed and specific in terms of due diligence, security, access and identification. Organisations could, worst case, leave themselves at risk of breaches and become uncompetitive as they lag behind in technology.
The economy tanks and cloud flops
Ms Lee Ward, Vice President and General Manager for Information Technology Outsourcing (ITO) and Infrastructure Support Services (ISS), Unisys Asia Pacific
That the currently buoyant Australian (and Asia Pacific) economy will be dragged down by Europe and the US (and even political unrest within the region such as Korea) making organisations and governments less willing to invest in capital including IT infrastructure, delay IT refreshes and not see /reap the benefits of new technologies such as social networking.
A lack of concrete examples of successful cloud computing for the enterprise will leave cloud computing branded an over-hyped trend, over shadowing the potential benefits of moving mission critical enterprise applications into the cloud.
Company sinks under the weight of IT complexity
Clive Gold, Marketing CTO, EMC
Large Australian organisations continue to experience embarrassing and costly outages, due to ageing, inflexible, siloed and costly infrastructures. As complexity of these legacy systems has increased over time and legacy computing skills become harder to obtain, the frequency and duration of these disruptions continues to increase. CIO's are now being held responsible for loss of brand value, churning of customers to competitors and the inability to bring new products to market
Read more on CW500 and IT leadership skills