Data center services vendor assessment: The essential checklist
Selecting a data center services provider calls for the evaluation of various aspects. Here's what you should not miss during data center outsourcing.
For some time now, there has been a constant tug-of-war going on between in-house versus outsourcing data centers. Despite their risky nature, the trend of data center outsourcing has seen a constant rise in the Indian market. However, getting the first step right -- selecting the correct data center services vendor -- paves the path ahead to reap maximum benefits.

Detailed research about the data center services vendor is a good start. Depending on the business need, a company should perform due diligence in gathering details about the data center services provider. These should include:

• The vendor's knowledge of your organization's industry vertical.
• The vendor's credentials in handling similar projects.
• Customer satisfaction rating by existing and past clientele.
• Team and infrastructure.
• Aspects like business ethics and values.

Assessing the capabilities of a data center services provider is of utmost importance. The four main considerations on which you can conduct a detailed assessment are space, power, security and SLAs.

An SLA should be viewed as a dynamic document, subject to change if the work environment changes, business expectations or needs change, or better metrics evolve.
Shailesh Joshi
CIOGodrej Properties
Space: Before you outsource your infrastructure to a data center services vendor, there are certain questions you should ask them:

(a) Are your servers rack-mountable, shelf-mountable or free-standing?
(b) How is conditioned air pumped in? Does it flow down from the ceiling, up from a raised floor, or does it flow through the open air?
(c) What is the planned density of servers per square foot of floor space?
(d) How much aisle space will be allowed for physical connectivity, maintenance activities, and daily care of the servers?

Power: If the outsourced location has uninterruptible power systems, is the power supplied via a series of fault-tolerant and redundant sub-systems? Is it backed by commercial and private power sources, including batteries and generators?

Security. One has to look into the type of security being used for different purposes from physical access to logical access. Does your data center services provider control physical access via lock and key? Is a card scanner being employed to track who is in the data center and when? Does your data center services provider maintain a log entry describing the purpose of every visit?

As the sensitivity of your application server intensifies, so does the security needed to protect it. What has your data center services vendor employed?

Many companies are not comfortable with the idea of letting a data center service provider manage their key IT resources. These concerns are addressable by deploying a solution to prevent data loss, along with a comprehensive network security solution.

SLAs: An essential pre-requisite to data center outsourcing is the service level agreement (SLA). One simply cannot do without it. The thing to consider while drafting an SLA is that the vendor has the flexibility to choose the processes. Hence it is important that the company and data center outsourcing vendor agree on all the processes. One should necessarily discuss a detailed work plan with the data center services vendor.

An SLA should:

- Specify the nature of the service provided. For example, SAP application maintenance support.
- Specify the level of the service provided — frequency, coverage, time-scales, etc.
- Incorporate limitations, as well as include details of the refund or compensation if things do not go according to plan.
- Assist communication. Have a weekly meeting to review the progress and clarify doubts.
- Ensure that your data center service providers is accountable for delivering the service.

SLAs need to be measured periodically, and all issues which arise should be documented. The document would help in tracking the severity and duration of the problem, as well as the reaction time and correction time. An SLA should be viewed as a dynamic document, subject to change if the work environment changes, if business expectations or needs change, or if better metrics evolve.

About the author: Shailesh Joshi is the CIO of Godrej Properties, and presently handles the data center outsourcing project for Godrej Properties. Joshi has completed a 10-year, multi-crore, total IT outsourcing deal for the organization. He has to his credit several years of experience setting up IT departments to multinational standards.

(As told to Jasmine Desai.)
Content Continues Below

Download this free guide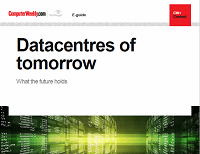 Datacentres of tomorrow: What the future holds
New technologies are widely-tipping to become a mainstay of datacentres in the future. Learn about new and emerging technologies that look set to shake-up the way datacentres are managed, monitored, powered and cooled as well.