Brazil IT struts the world stage
The Brazilian IT industry aspires to claim a substantial slice of the outsourcing pie that India and China currently enjoy over the next few years. It is a tall order, but the country has some ambitious plans to reach that goal.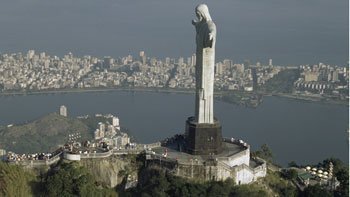 The Brazilian IT industry aspires to claim a substantial slice of the outsourcing pie that India and China currently enjoy over the next few years. It is a tall order, but the country has some ambitious plans to reach that goal.

Download this free guide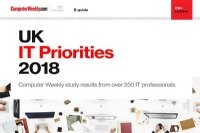 The future of UK tech: Cloudy with a chance of Artificial Intelligence
The forecast for the future is in and, in typical British fashion, it looks like it's going to be cloudy. Our IT Priorities survey has revealed that organisations are planning on making the most of the cloud in the future. Download our IT Priorities results for more insights into where the IT industry is going.
With more than 4,000 indigenous IT companies, Brazil is already the world's 12th largest producer of software and services, with official statistics suggesting an increase in export growth from $800m (£540m) in 2007 to $3bn in 2009. The country's goal is to tally $5bn in IT outsourcing revenue this year.
According to figures from the Economist Intelligence Unit (EIU), total IT spending in Brazil currently accounts for 1.7% of the country's GDP. The EIU predicts that Brazil will be the third fastest-growing economy in the world between now and 2020 - this spells good news for the local technology industry, as GDP growth is known to drive IT demand.
Magical moment
"Brazil is living a magical moment in terms of political and economic stability and that naturally reflects on the technology industry," said the president of IT trade body Brasscom, Antonio Gil.
"In the discussions we have had with the government, we posed a very simple objective to achieve, which is to become one of the three main IT hubs worldwide, and we are moving towards that," said Gil.
Key areas of activity for Brasscom include concerted lobbying for regulatory reforms around tax and labour to increase Brazil's attractiveness for technology companies, the assessment of infrastructure requirements around the delivery of the World Cup in 2014 and the Olympic Games in 2016, as well as ensuring the delivery of skills to meet increasing demand.
Expertise
The pool of IT expertise in Brazil is vast - about 1.7 million people are working in the area at present and about 100,000 graduates from ICT-related areas enter the workforce every year. However, English fluency is an issue Brasscom is aiming to address by providing IT-specific English proficiency courses to sector professionals.
Gil recognises that Brazil is not cheap compared to India, due to high taxes and a strong national currency, but cites advantages that can offset the expenses, such as local IT staff turnover of 20% compared to India's 40%; stable political conditions; similar time-zones to North America and Europe; as well as a better cultural fit with clients in those regions than its Asian competitors. Brazil's main IT services companies, Politec, CPM Braxis and Stefanini, all boast technology expertise in verticals such as financial services, manufacturing, retail and public sector: the country was one of the world's first to adopt electronic voting.
The government recognises the potential of Brazil IT, though there is more to be done towards reducing the tax burden on investors. Reduction of social security contributions from firms by 50%, depending on the amount of exports, has already been introduced, as well as income tax reductions of 200% for spending on training and R&D and tax breaks on technology transfers, licenses and royalties.
"Brazil is capable of delivering a fountain of offshoring services. As well as government support, the human resources element and its differential in terms of contributing to real innovation are being widely recognised around the world," said Gartner analyst Cassio Dreyfuss.
Business environment
Foreign companies were quick to set foot in Brazil to take advantage of the favourable business environment. Indian firms Tata Consultancy Services, Infosys and Wipro all have operations in the country, as well as giants such as Accenture, HP and British Telecom.
Brazil represents 50% of BT's Latin American business. "BT selected Brazil as a centre of excellence and other multinationals are also investing in the country by setting up R&D or service centres, and that is increasing at an exponential rate," said Sergio Paulo Gallindo, country manager for BT Brasil.
"India is more experienced and mature than Brazil [in IT services] but the benefits of betting on a region that is taking off include the commitment and loyalty from the labour force in Brazil towards customers and their objectives," said Gallindo.
Despite the bright prospects for Brazil IT, there are also downsides that decision-makers should be aware of when considering the country as a possible sourcing destination, said offshoring director at the National Outsourcing Association, Mark Kobayashi-Hillary.
"Brazil was barely touched by the global economic slowdown and in Europe or the US, this kind of healthy economy feels unbelievable. The country is a world leader in many business areas and the local tech firms go way back to the mainframe era and have just sprung up to take advantage of offshore outsourcing," he said.
"Naturally there are some disadvantages - Brazil has been focused on a booming domestic market for many years so the IT firms have not really needed to turn their attention to the outside world. This means that many firms are not ready to do business in English at all levels - even if all the people you get to meet can work in English rather than Portuguese," he said.
"There is also real reason to go to Brazil for cost advantage alone. IT there is a lot less expensive than in the US, but it can't compete with India and other Asian countries. Brazil is a place to go for domain expertise and flexibility, not cost cutting."
Read Angelica Mari's series of blog posts from her visit to Brazil for the Brasscom Global IT Forum.
---
Sign-up to Computer Weekly to download Economist Intelligence Unit research on Brazil
After decades focusing on its internal market, Brazil is now telling IT buyers worldwide about what it has to offer and wants technology to become one of its key exports.
Brazil is already the world's 12th largest producer of software and services, with official statistics suggesting growth in exports from $800m in $3bn in 2009. The government's goal is to tally $5bn in IT services revenue this year.
When Brazilian IT services firms talk about the main advantages of doing business there, economic stability comes right at the top. In fact, Brazil was one of the last countries worldwide to feel the impact of the recession and among the first to recover.
To help in the decision-making process around IT outsourcing to Brazil, this presentation by the Economist Intelligence Unit outlines key advantages and economic forecasts for the country over the next few years.
Read more on IT outsourcing