Designing security for a backup and recovery strategy
Read about the Windows Server 2003 backup utility that helps create backups and enhance data security in this MCSE Exam Cram 2 book excerpt.
The following excerpt is from Chapter 6 of the MCSE Exam Cram 2 book "Designing security for a Microsoft Windows Server 2003 network" written by Ed Tittel, courtesy of Sams Publishing. Click to purchase, check out the complete book excerpt series or go straight to the practice exam if you think you're ready to be tested.



---
Designing security for a backup and recovery strategy

An organized schedule of backups is an essential element in any network design. Windows Server 2003 has a built-in backup utility that can assist you in creating normal, incremental and differential backups. You can also use third-party backup tools to provide more flexibility for backups.
Windows Server 2003 has a new tool that assists you in recovering data on your servers. This new tool is referred to as Volume Shadow Copy service. You need to be familiar with the Volume Shadow Copy service and its potential effect on the productivity of your users.
Although volume shadow copies are not a replacement for performing regular backups on a system, they are an effective enhancement to the security of data. Volume shadow copies are multiple versions of files on a file server that are automatically stored based a schedule that you set. They are categorized by time. You can enable the Volume Shadow Copies features in the properties of an NTFS volume, as shown in Figure 6.6. They are not full copies of each file version, but rather just the changes from the previous version. This system is used to conserve hard disk space while providing a backup of each version. You can set the schedule for the copies, but Microsoft recommends that you set it for no more than once per hour.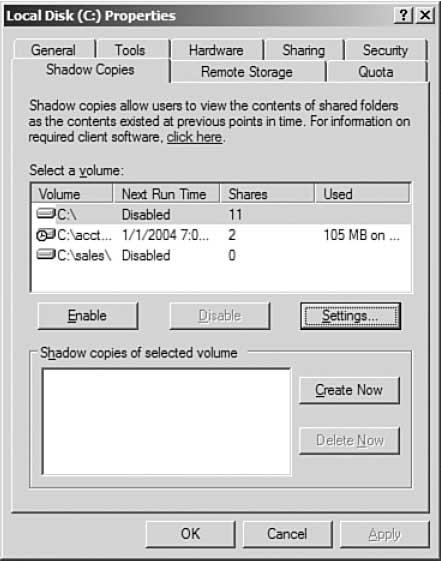 Figure 6.6: You can enable the system to keep multiple shadow copies of a file sorted by time created.
If a user accidentally modifies a file in such a way as to lose some of the information in the file, he can use volume shadow copies to obtain a previous version of the file. This can save the user a tremendous amount of time and, thereby, increase productivity.
---
Volume shadow copies to the rescue
Let's pretend that you are a user who has been working on a PowerPoint presentation for weeks, and your presentation now includes more than 500 slides. You want to send a "mini version" of your presentation to another user for her opinion, so you delete 475 slides, intending to save the remainder of the slides as a new file. However, you accidentally click Save instead of Save As and you have now lost your original file and 475 slides!
Without volume shadow copies, your options would be quite limited at this point. You could either ask the network administrator to restore the file from backup tape, or you could begin recreating the 475 slides that you deleted. With volume shadow copies (and a little training), you simply right-click the file that you still have and then select the Previous Versions tab of the file's properties. You then select the version of the file that you had a couple of hours ago before you made your mistake. Your file would return and life would go back to normal. It's as simple as that.
---
Click for the next excerpt in this series: Analyzing auditing requirements
Click for the book excerpt series or purchase the book here.
---
Read more on Antivirus, firewall and IDS products