Broadband is a basic human right, ITU tells UN
Access to high-speed broadband should be a basic human right, the International Telecommunications Union told world leaders at the UN's Millennium development...
Access to high-speed broadband should be a basic human right, the International Telecommunications Union told world leaders at the UN's Millennium development goals conference in New York on Sunday.

Download this free guide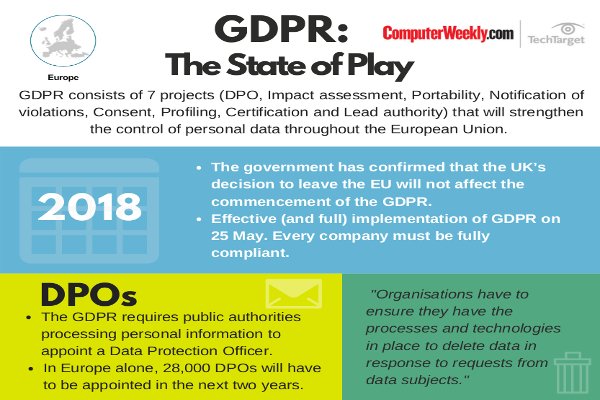 Infographic: GDPR - The State of Play
Get the latest information on how GDPR is going to affect your business and how to avoid any unwanted fines with this simple infographic.
By submitting your personal information, you agree that TechTarget and its partners may contact you regarding relevant content, products and special offers.
You also agree that your personal information may be transferred and processed in the United States, and that you have read and agree to the Terms of Use and the Privacy Policy.
The report came a day after local delegates met in Penrith, Cumbria to consider ways of extending high-speed broadband to Britain's least densely populated county, and one of its poorest - conditions that mirror those in some less developed countries.
The ITU's broadband commissioners, led by Rwandan president Paul Kagame and Carlos Slim, the Mexican mobile phone billionaire, urged leaders to replicate the "mobile miracle" of the first decade of the century with a "broadband boom" to provide shared high-speed resources accessible and beneficial to all.
An accompanying report said there would be 900 million broadband subscribers by the end of the year. It predicted millions in the developing world would use mobile broadband because fixed infrastructure was sparse and expensive.
ITU secretary-general Hamadoun Touré said broadband access was a "tipping point" for economic development. "It can generate jobs, drive growth and productivity, and underpin long-term economic competitiveness. It is also the most powerful tool we have to meet the Millennium Development Goals, which are now just five years away," he said.
The commission's report offered a detailed framework for broadband deployment and 10 action points (see below) for policy makers.
"Affordable, ubiquitous broadband networks will be as critical to social and economic prosperity as networks like transport, water and power," the commissioners said.
"Broadband will serve as tomorrow's fountain of innovation. It represents the ripening of the digital revolution, the fruits of which have yet to be invented or even imagined."
The report noted that governments could find the money for broadband deployments by "cutting a swathe through the (budgetary) silos associated with health, education, energy, transport, the environment and other key sectors".
Referring to the digital divide, the commissioners noted that subscribers in the developed paid less than 1% of their average monthly income for a fast broadband connection. In countries such as Ethiopia, Malawi or Niger, even a relatively slow broadband connection costs many times an average monthly salary, they said.
They found that 30% of people in Western Europe, Oceania and North America had a broadband subscription, but penetration in BRIC (Brazil, Russia, India and China) countries was around 10%, and less than 1% in the poorest nations.
They urged governments not to limit market entry, to tax broadband and related services lightly if at all, and to make available plenty of spectrum to support mobile broadband growth.
Action points
1. Connecting broadband with the Millennium Development Goals and knowledge societies
2. Benefitting from transformational change
3. Using transparent, fair, competitive, technology-neutral models
4. Enabling content and applications creation
5. Employing broadband to help combat climate change
6. Accelerating broadband access for women and girls
7. Supporting wider broadband inclusion for all
8. Broadband modelling, evaluation and monitoring
9. Building a global partnership for broadband development
10. Next steps for broadband partnerships and projects
Read more on IT legislation and regulation