Beaumont Hospital CIO says 'no thanks' to bigger budget
The CIO at one of Ireland's biggest teaching hospitals has refused to increase its IT budget. He says his department already has enough money, thanks to...
The CIO at one of Ireland's biggest teaching hospitals has refused to increase its IT budget. He says his department already has enough money, thanks to using a new capability assessment model to align the hospital's IT and business strategies.

Download this free guide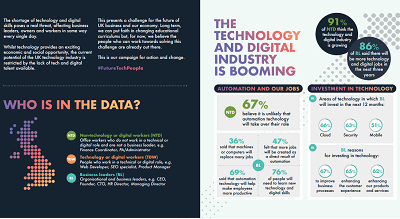 Infographic: Future-proofing UK technology
The current potential of the UK technology industry is restricted by the lack of tech and digital talent available. Read through this challenge for the future of UK business and our economy.
By submitting your personal information, you agree that TechTarget and its partners may contact you regarding relevant content, products and special offers.
You also agree that your personal information may be transferred and processed in the United States, and that you have read and agree to the Terms of Use and the Privacy Policy.
Over the past two years few sectors have faced as much pressure to cut costs as the public sector in Ireland. In the spirit of not wasting a good crisis, Beaumont Hospital CIO Martin McCormack says the pressure to cut costs meant that people could think freshly about what was really important.
McCormack called for an IT capability maturity assessment using the Innovation Value Institute's (IVI) IT-CMF process, and used the results to guide the board's decisions about how best to spend an IT budget cut by 25%.
"After some help from IVI, the results gave us a common language with which we could discuss the applications portfolio, plan new apps, and the criteria we would use to measure return on investment," McCormack said.
The key change has been to evaluate the systems in terms of value delivered to patients. "We deal with life and death decisions," said McCormack. "What patients and doctors value is fast and accurate information about a patient's condition."
Understanding the hospital's IT capability was key to winning early involvement with projects such as the €40m (£33.47m) National Integrated Medical Imaging System (NIMIS). Beaumont now uses the web to deliver scans of accident victims within 30 minutes of the patient being scanned.
Similarly, it developed an electronic patient record for its 600 cystic fibrosis patients. The application saved the hospital €200,000 at a cost of €3,000. "That is now a fixed cost. We can now reuse that record template at no cost for all future cystic fibrosis patients, and we can adapt it at minimal cost for other care disciplines," says McCormack.
It also allowed him to go back to the board and tell them not to give his department any more money. This year's budget, which includes 200 staff, is €7.5m. "I had all I needed," he says.
Beaumont's expertise with handling images and making them available quickly for analysis prompted interest from energy company Chevron. Jack Anderson, who is in charge of innovation at the oil company, said Chevron engineers use imagery extensively to find new oil deposits.
"We might have something to learn from Beaumont," he says. "That is one of the main benefits of being part of the IVI community - there is always someone who has found a way to address a similar problem to yours, and they are happy to share their knowledge."