Internet Society endorses Nominet plan to avoid government regulation
The Internet Society (Isoc) has endorsed Nominet's plans to avoid government regulation of the .uk domain.
The Internet Society (Isoc) has endorsed Nominet's plans to avoid government regulation of the .uk domain.
The idependence of Nominet, the member-run, self-regulating body that manages the .uk domain, is threatened by government proposals in the Digital Economy Bill now going through parliament.

Download this free guide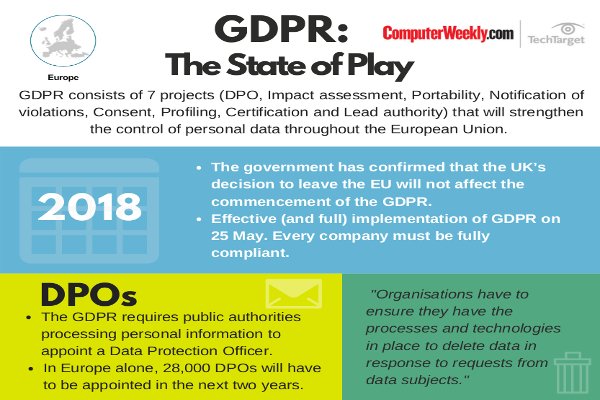 Infographic: GDPR - The State of Play
Get the latest information on how GDPR is going to affect your business and how to avoid any unwanted fines with this simple infographic.
By submitting your personal information, you agree that TechTarget and its partners may contact you regarding relevant content, products and special offers.
You also agree that your personal information may be transferred and processed in the United States, and that you have read and agree to the Terms of Use and the Privacy Policy.
The government wants to reserve powers to regulate the domain name industry and so guarantee that the public interest will underpin the operation of the UK domain name space.
Critics believe that government control will lead to more red tape and slower resolutions of disputes over issues such as cyber-squatting.
Nominet has called on members to vote through changes in its constitution that it says would achieve the government's goals but keep its self-regulatory role and independence.
Isoc president and CEO Lynn St Amour said, "The internet works best when everyone that uses it is able to have their views heard about how it should grow and develop, and to participate in its development."
She said was encouraged by Nominet's proposal to include a public purpose commitment in its constitution. "The Internet Society would particularly like to support the proposal to open up Nominet's decision-making processes to many more stakeholders."
Isoc and Nominet had a long history of collaboration, said St Amour. "We are happy to support Nominet's efforts as they work to ensure that the voice of the ordinary internet user can be heard now and into the future," she said.
Nominet CEO Lesley Cowley said the domain registrar had to prove that it was balanced, catered for the needs of all stakeholders, and was governed according to best practice standards.
"It is in our members' interests that we make the constitutional changes to support this and we urge them to vote in favour for the changes necessary to retain internet self-regulation," she said.
Nominet will hold an extraordinary general meeting on 24 February in London to vote on the proposals.
Read more on IT legislation and regulation