Oracle aims to secure future of Sparc, Solaris and Sun hardware
Oracle has unveiled its roadmap for Sun following its $7.4 acquisition of the ailing hardware company. In an open letter, Oracle president Charles...
Oracle has unveiled its roadmap for Sun following its $7.4bn acquisition of the ailing hardware company.
In an open letter, Oracle president Charles Phillips assured users that they would get the same services and products from Oracle as they received from Sun, but with the benefit of Oracle's greater reach as a business.

Download this free guide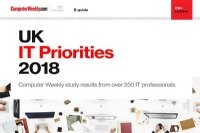 The future of UK tech: Cloudy with a chance of Artificial Intelligence
The forecast for the future is in and, in typical British fashion, it looks like it's going to be cloudy. Our IT Priorities survey has revealed that organisations are planning on making the most of the cloud in the future. Download our IT Priorities results for more insights into where the IT industry is going.
"Performance levels will be unmatched. Oracle's software already runs faster on Sun Sparc/Solaris than on any other server or operating system," said Phillps.
"With Sun as a part of Oracle, each layer of the [product] stack will be engineered to further improve performance, reliability and manageability so that IT will be more predictable, more supportable, and more secure. Customers will benefit as their system performance goes up and their system integration and management costs go down."
Oracle said it would continue to develop Sun's hardware and Solaris's operating system.
It said: "Sun customers will go to one source to solve all issues and proactively avoid future problems. This helps lower risks and the time spent identifying the responsible party for resolution."
Oracle gave a commitment to the future of Sun's Sparc microprocessor. "Oracle plans to spend more money developing SPARC than Sun does now," the company stated. And it said it would accelerate investment in Java.
Oracle will take on support for Sun's OpenOffice office productivity suite, and plans to sell enterprise support for this product, raising competitive pressure against Microsoft.
In a guest posting on the Seeking Alpha, financial blogging site, Tony Baer, a senior analyst at Ovum, wrote that through its plans for Sun's hardware business, Oracle is integrating hardware with its software, similar to the turnkey systems of the 60s and 70s.
"Oracle's acquisition of Sun is a means for turning the clock back to the days of turnkey systems in a post-appliance era. History has come full circle as Oracle in its original database incarnation was one of the prime forces that helped decouple software from hardware."
Read more on Data centre hardware