Businesses ill-prepared as Carbon Reduction Commitment looms
Most UK businesses are unprepared for carbon reduction legislation that will be introduced in April 2010.
Most UK businesses are unprepared for carbon reduction legislation that will be introduced in April 2010.
Only one in three UK organisations are fully prepared for the Carbon Reduction Commitment (CRC) legislation, a survey of 200 UK businesses found.

Download this free guide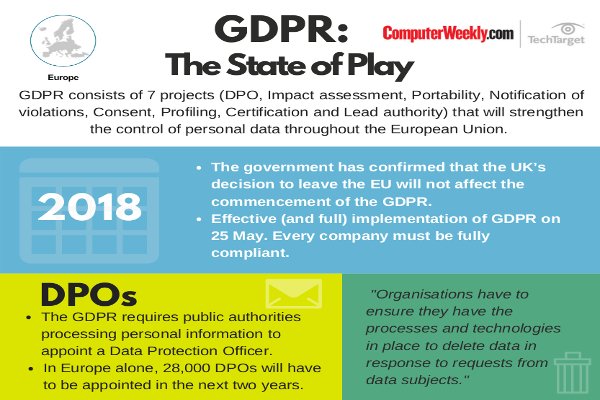 Infographic: GDPR - The State of Play
Get the latest information on how GDPR is going to affect your business and how to avoid any unwanted fines with this simple infographic.
Some 20% of respondents have not yet started planning or have no idea what measures they need to take, the Coleman Parkes survey found.
Although 77% of respondents said the CRC is an opportunity to improve their carbon footprint, less than half have the necessary IT systems in place.
Of those that have a system to track their progress and manage their carbon footprint, 33% are relying on spreadsheets and 12% are using tools developed internally.
"The research highlights a worryingly low level of preparedness for the CRC," said Simon Godfrey, sustainability champion at SAP UK & Ireland, which commissioned the survey.
Clear governance and ownership for the CRC will be essential to reducing the administrative burden of what will become an annual requirement, he said.
"At the same time, if organisations want to perform well in the league tables, they need a comprehensive carbon management system in place to be able to easily collect, gather and analyse data pertaining to their carbon emissions," said Godfrey.
Those who do not make plans for managing their exposure will find themselves facing stiff penalties, said Clive Longbottom, service director, business process analysis at analyst firm Quocirca.
"However, those who can plan accordingly and set themselves achievable and sensible targets will find that they can benefit in solid financial ways through the future trading of their CRC credits," he said.
With such little time left before the CRC energy efficiency scheme becomes mandatory, now is the time to ensure that the business and IT department work together to ensure an effective plan is in place, said Longbottom.
Read more on IT legislation and regulation